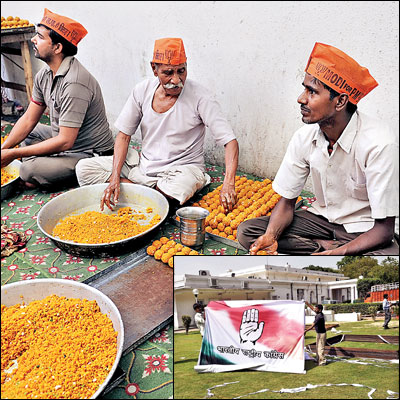 Even before the first vote was counted, the BJP appeared to be in a celebratory mood on the back of a majority of exit polls predicting a majority by the saffron party led NDA even as the mood in the Congress headquarters remained sombre on Thursday.
The BJP, it appeared, was preparing for a grand wedding. The party office on Ashoka Road was getting a fresh coat of paint, was being ostentatiously decorated and new flower pots were put up all across the party premises. A caterer was hired to prepare 2,500 kg ladoos meant for distribution on counting day today.
"We will be here all night as the order is huge and may increase. I have hired 40 people for the job," said Rahul Mathur, whose catering company is preparing the sweets.
The painters too were busy at work, beautifying the exteriors and removing dark spots that have dotted the walls the last 10 years, during which the party sat in Opposition. "It should look like a winner's compound," said Mahesh, 38, who identified himself as a grassroots party worker.
A separate room with 20 LCDs has been created for supporters and journalists to monitor election results from. Besides, a mega digital screen has been installed in the open compound to display the results and leaders' speeches on. "The LCDs will remain here at least for the next three days," said KR Jaiswal of Jaiswal Audio Visuals, which has been granted the contract. A huge tent was also erected next door, in the premises of senior leader Arun Jaitley's residence.
Barely 3 km away, the Congress headquarters at Akbar Road wore a deserted look. Party workers remained away even as labourers were setting up shamiana tents in the garden for media persons to keep tabs on the counting results. With no formal security checking on Thursday almost everyone could enter the otherwise high-security premises.
"I don't know where they are right now. I have been asked to be here," said an office bearers about Congress leaders.
The flex banners, prepared by the Congress for the result day interestingly, were devoid of images of party leaders. Even the background on most TV screens just sported the party symbol — the hand. Even the security officials outside the party premises seemed disinterested. "This is past now. You should go to Ashoka Road," said one of the officials posted outside the party office.