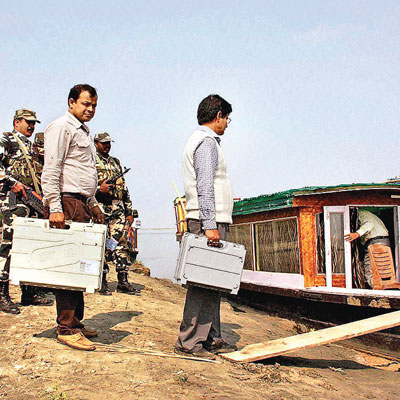 The first of the nine-phase parliamentary elections will be held on Monday in five constituencies in Assam and one in Tripura.
Incidentally, the first phase poll in Assam coincides with the raising day of banned United Liberation Front of Assam (Ulfa). On this day in the past, the outfit used to carry out a series of subversive activities. The Assam police said all measures have been taken to thwart any untoward incidents.
"There is no specific threat to the polls as such but we cannot take any chances. All measures have been taken to ensure free, fair and peaceful elections," additional director general of police AP Raut told dna.
The constituencies in Assam going to polls in the first phase include Tezpur, Kaliabor, Jorhat, Dibrugarh and Lakhimpur. All but Tezpur are currently held by Congress. The constituency in Tripura is Tripura West.
In Assam, altogether 64,10,883 voters – 33,06,735 males and 31,04,148 females – will decide the fate of 51 candidates.
Prominent among them are Union ministers Ranee Narah and Paban Singh Ghatowar, former Union minister BK Handique, chief minister Tarun Gogoi's son Gaurav Gogoi (all from Congress) and BJP state president Sarbananda Sonowal.
Parties contesting the polls include Congress, BJP, Asom Gana Parishad, All India United Democratic Front, Trinamool Congress, AAP, Left parties and Samajwadi Party.
Around 3,000 of the 24,267 polling stations in the state have been identified as critical. Official sources said 232 companies of security forces had been deployed.
Three other constituencies in the state will go to the polls on April 12 and six others on April 24.
Tripura (West) has 12,46,794 voters of which 63,4,702 are males and 61,2,092 are females. They will decide the fate of 13 candidates. The key contestants include CPM's Shankar Prasad Dutta, Congress' Arunoday Saha, BJP's Sudhindra Dasgupta and Trinamool Congress' Ratan Chakraborty, a former minister.
The CPM won the seat ten out of 15 times between 1952 and 2009. And since 1996, the party has consistently won the seat.
Of the 1,605 polling stations, only two have been identified as very vulnerable and 486 as vulnerable. Considering good performance by women personnel in the past, the Election Commission has set up nine all-women polling stations in the constituency.
Official sources said an additional 35 companies of security forces had been deployed and they would work along with the state police. Polling for the East Tripura (ST Reserve) seat will be held on April 12.