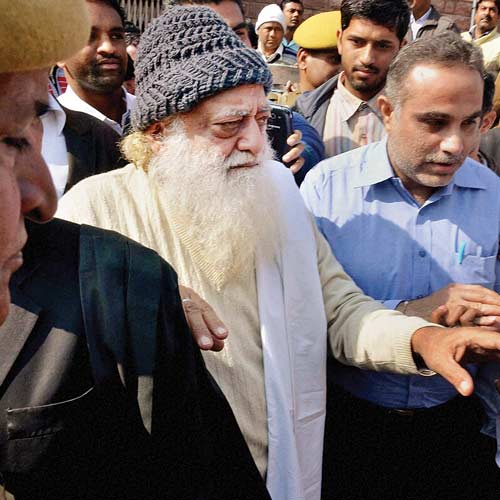 The self-styled godman Asaram Bapu is not facing allegations of rape only. In the charge sheet filed against him before the chief judicial magistrate in Gandhinagar on January 9, he has been charged with having unnatural sex (under section 377 of Indian Penal Code) with the Surat-based victim (who lodged the case) and six other girls.
The charge sheet says that the victim was taken to Asaram in 2001 when the accused had indulged in oral sex with her. The charge sheet further talks about a similar incident of 2005. "In 2005, Asaram had called the victim and six other girls to Modasa ashram where he performed oral sex with them," the charge sheet said.
However, the defence in sexual assault case involving Asaram on Thursday argued before a local court that the self-styled godman was a victim of "international conspiracy" hatched to defame the saint community in India.
The investigating team has filed a 1,000-page chargesheet against Asaram and six others in the alleged rape case of a Surat-based girl. According to the police, they have statements of around 100 witnesses to support the case of rape and conspiracy to rape against the godman.
Defence lawyer Omkar Singh Lakhawat on Thursday started arguing the case after the prosecution completed its arguments on Wednesday in the district and session court in Jodhpur.
"
There is an international level conspiracy against the saint community in India and Asaram has been targeted as part of this vicious conspiracy as he was a very popular saint of the country," Lakhawat told the court here. Lakhawat, who is also BJP's state vice-president, claimed Asaram was "innocent and has been implicated" in the case. He also produced some documents before the court in support of his theory. When asked if BJP wanted to defend Asaram, he said that he was a professional lawyer and has appeared as Asaram's counsel.