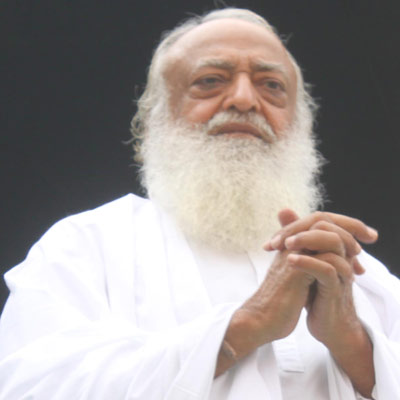 Spiritual guru Asaram Bapu will stay in jail for alleged rape of a minor girl as the Supreme Court Monday posted for July 3 his plea seeking bail and contending that he could not be tried under the Protection of Children from Sexual Offences Act as the victim was not a minor.
A bench of Justice B.S.Chauhan and Justice A.K. Sikri, while not issuing notice, permitted Asaram to serve a copy of his petition to the Rajasthan government.
The court also did not say anything on the plea of the prosecution for cancellation of the bail to some of the accused in the case.
Asaram contended that the victim was born in 1995 and not in 1997 as shown in her high school certificate issued by the education board.
Contesting the date of birth of the victim, he said that if her date of birth is taken to be in year 1995, then she is a major and he could not face trial under the Protection of Children from Sexual Offences Act, 2012.
The court was told that if the victim's birth was taken to be in the year 1997, then he would face trial under this act, which will have graver consequences for him and graver punishments.
The court asked senior counsel U.U.Lalit how could records of the play school prevail over the date of birth mentioned in the high school certificate.
Counsel Kamini Jaiswal earlier told the court that the school records of registration and admission forms relate to victim's play school days and the date of birth mentioned in board examination certificate was more authentic.
Directing the listing of the matter on July 3, the court declined Asaram's plea to issue notice to the state government.
On Aug 20, 2013, a 16-year-old girl lodged a police complaint accusing Asaram, 72, of sexually assaulting her at his ashram near Rajasthan's Jodhpur.
In her complaint, the girl alleged that Asaram's aides sent her to his Jodhpur ashram on the pretext that she was under the influence of an "evil spirit" and the spiritual guru could perform an exorcism.
Asaram was arrested from his ashram in Indore in Madhya Pradesh, and brought to Jodhpur Sep 1. He is lodged in the Jodhpur Central Jail since Sep 2.