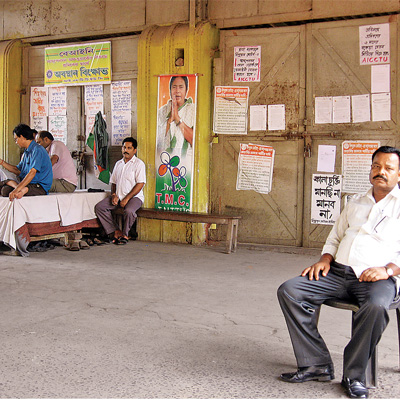 Dreams die a thousand deaths everyday outside the locked gates of Hindustan Motors' plant near Kolkata ever since the iconic Ambassador stopped rolling out of its rickety assembly line last month.
It's not just Arun Kumar Roy, one of the 2300-odd workers, who has suddenly been rendered jobless. His son Saurav's dream of becoming a basket ball player has just died, along with his father's dream of giving his son a decent education and a future better than what he had.
Saurav has got second division in the secondary examination that won't get him into any reputed colleges of Kolkata.
He doesn't look bothered. The sprawling basketball court inside Hindustan Motors' staff quarter premises was what always attracted him.
"He was fast turning out to be a good player and was taking regular coaching. He could have scored better in his exam but for this love for the sport," said his father Arun.
Then, one day everything changed for Saurav some time back when the basketball training facility was closed down. It was a precursor of things to come.
"We had a very good Asian Games level coach here and other facilities, all funded by the company. Now that my father has lost his job, I can't afford to go to any good club in Kolkata," said Sourav.
Saurav has passed out of the Hind Motors High School, which hasn't closed down, being managed by a trust, providing decent education to the children of the staff in the plant and outsiders.
In its heydays in the 90s, the Uttarpara plant employed close to about 14,000 people when it was rolling out around 35,000 cars a year, or about 2,900 a month. That fell to just 58 in April this year.
The township saw people being handed over the pink slips and leaving and the population has now come down to about 2,000. Uttarapara has become the Detroit of the East, a ghost town where only stories of lost glory are told again and again over endless cup of tea.
''Hindustan Motors would have survived if they could launch the concept compact Ambassador car that was created. It looked so cool and funky,'' Saurav thinks.
Agrees his father. "We were all shown the prototype that was brought to the plant. But then I think the management wasn't serious enough about converting that concept into a reality. People in charge of the project left and interest in the project was lost," lamented Arun, who have a better understanding of why the Ambassador has stopped rolling out of the plant.
But Saurav knows that with little skill for modern manufacturing techniques, his father doesn't have much chance of getting recruited in other automobile manufacturing plants.
That makes waiting for the factory to reopen the only option for Arun, who has made a clock-work habit of coming to the gate of the plant every morning and sitting either on tarpaulin sheets or on wooden planks . It is a plight that relfects the utter hoplelessness of Uttarpara. Everybody knew the car would go. But no one expected Uttarpara to become a ghost town so soon.
With nothing much to do, workers spend time playing cards and munching on stale jokes.
"If you are playing auction bridge, please follow the rules," union leader Uttam Das hollered at a fellow colleague.
"It doesn't matter. All we are bothered now is how to pass time," he replied.
As evening falls over Uttarpara, Arun and others get up. "Mamata Banerjee zindabad," all yell in unison. Many years earlier, there were slogans of revolution that ultlimately resulted in industrial Bengal turning into a graveyard.
Today, there are slogans crying for jobs. They all believe that one day chief minister Mamata Banerjee will descend on Uttarpara and with her wand make it rise from the ashes. "Mamata Banerjee zindabad."
"In my memory, the largest shedding of workforce happened in 2007 when the factory was shut for some time. When it reopened, close to 2,000 staff were forced to take retirement," said Das.
With this, the population at the township fell rapidly. Scared of desolate stretches of empty housing quarters, the union forced the management to start giving accommodations to those workers who were living outside the township.
"This ensured that some of the housing blocks got filled up," he said.
The township and the plant was once spread over 741 acres. With much of that land turning out to be surplus over time, Hindustan Motors' owner CK Birla sold off 314 acres to Shriram Properties of Bangalore for setting up an integrated township in 2007.
While money poured in, the promised development of the plant and the staff quarter, never happened, laments Roy.
"Part of the township, including some crumbling staff quarters, were sold off. But with the real estate project yet to start, it's fast turning out to be a ghost town," Das said.
The ghosts of Uttarpara also tell the stories of the decline of Bengal.