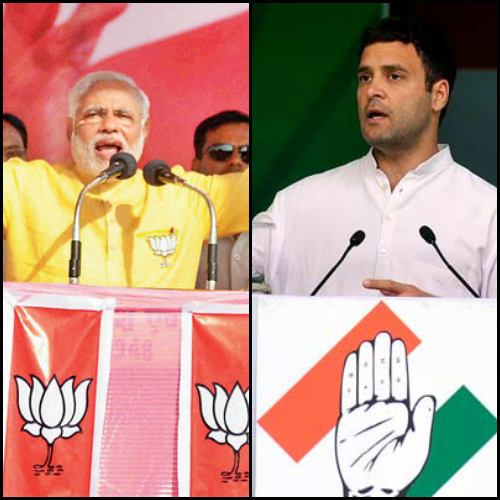 With the exit polls out, the Congress and the Bharatiya Janata Party leadership are well into planning their next moves.
As the exit polls have predicted a complete smackdown of the Congress, it has been alleged that Rahul Gandhi would be protected from being blamed of the party's apparent poor result.
According to reports, Congress will meet on May 15 to make sure the entire party takes the blame for the poll defeat if the exit polls results come true. Gandhi alone will not be made to shoulder responsibility if they are defeated.
BJP's Arun jaitley has said to a news channel, "I don't think Congress party will ever find faults with Rahul Gandhi or anyone in the dynasty." Jaitley asserted that Gandhi would not be made to take accountability for the 'disaster that has befallen the Congress'
Leaders of the BJP and other parties are already scuttling to receive a big share of the victory if the BJP comes to power. Reports say that BJP president Rajnath Singh, Nitin Gadkari, Chhattisgarh Chief Minister Raman Singh and even National People's Party's PA Sangma have met with Narendra Modi.

It has transpired from the meeting that Nitin Gadkari is likely to get key cabinet portfolio, while Rajnath Singh will continue as party president. Gadkari's clean chit by the Income Tax department after conducting raids on his Purti Group and his good relationship with the Rashtriya Swayamsevak Sangh (RSS) chief Mohan Bhagwat has made him a worthy candidate to receive cabinet portfolio.
If Modi ascends to prime minister-ship as the exit polls predict, the BJP's Gujarat leadership has begun hunting for a new chief minister. Gujarat Minister for Roads and Buildings and Urban Development Anandi Patel is touted to take that post.
The BJP's Gujarat leadership is supposed to meet at on Tuesday evening to decide for the fate of Gujarat. It has been reported that Modi had even discussed the matter with the RSS chief Mohan Bhagwat. But according to news reports Patel could very well be the future chief minister.

Other contenders for the post are Saurabh Patel, Industries Minister, and Bikhu Dalsania, an organisational secretary of the BJP in Gujarat.