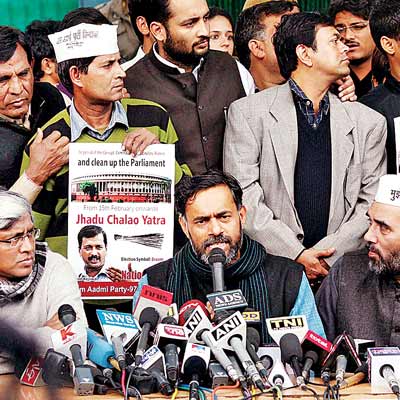 A day after Arvind Kejriwal resigned as Delhi CM, the Union cabinet on Saturday accepted Lt governor Najeeb Jung's recommendation to impose president's rule in the capital. The assembly will now be kept in suspended animation.
The developments do not come as a surprise to former Delhi CM Sheila Dikshit. "In his (Kejriwal's) 49-day rule, all that he did was witch-hunt. The Delhi government was running on dharnas, failed public hearings and no grievance mechanism," she told dna.
Dikshit said she is "disturbed" that Kejriwal destabilised the city to which she provided a "stable government for 15 years". "Today, we are staring at instability and it is not a happy situation. We are a state, Union Territory and the capital of India... it is a complex situation and needs to be treated cautiously," she said.
The Congress leader believes the Aam Aadmi Party's theatrics will be an eye-opener for Delhiites. "I am hoping that Delhi will be able to see the right and wrong now," she said.
The three-time former CM lashed out at her successor's decisions. "It has been 49 days of anarchic rule. How can the CM waive power bills of 24,000 people? Is he trying to say that those who can get away with the system are heroes and the rest are criminals? He has cheated the people," Dikshit alleged. She refused to rate Kejriwal, saying: "He calls himself an anarchist. What more can I add?" Dikshit, however, questioned his anti-political and "illegal" style of functioning. "You cannot call politicians corrupt without giving evidence. What he has been doing is neither convincing nor justifiable," she said.
Dikshit says she is saddened to see development projects in the city come to a standstill. But she is glad that the BJP took a genuine stand on the Jan Lokpal Bill. "We cannot overlook the Constitution," she told dna, adding that she is hopeful that the Congress will bounce back. "Politics is very unpredictable. People got swayed by the wave... it can happen again."
On her political plans, the veteran Congress leader said: I have given 16-and-a-half years to the party in Delhi. I will continue to serve the people. It is for the high command to decide where it wants me to be."