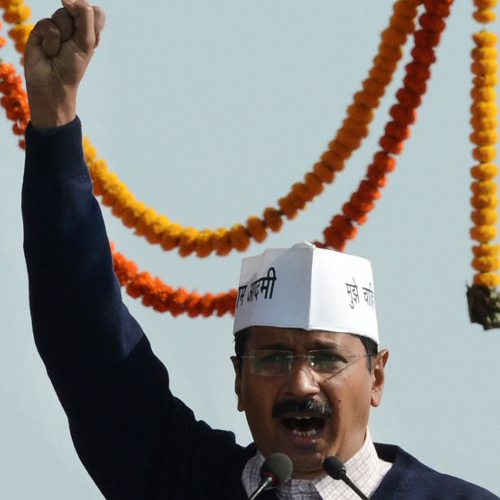 Taking his battle against corruption forward, Delhi's seventh Chief Minister, Arvind Kejriwal, on Saturday promised immediate punitive action and crackdown against the corrupt officer or government department.
He urged the people of the national capital not to refuse or hesitate to give a bribe to any officer of any department of his government if asked for, and after doing so, to contact the Aam Aadmi Party (AAP) Government or leadership on a landline telephone number that he would give them, and he would cath the culprits red-handed.
Addressing the people of Delhi after assuming charge of the chief minister's office at the Ram Lila Ground here at noon, Kejriwal said: "It is not I or the AAP MLAs who have become chief minister and ministers of Delhi, it is you, the people of Delhi who have become chief ministers and ministers.
All of you have today taken this oath of office and secrecy. This is the common man's victory, not mine, or my ministers. We have shown through our performance in the December 4 elections, that we have arrived at a historic moment in the city's history, and in the nation's history. This is a landmark and a great achievement.
"This country and our national capital has been in the doldrums, in this menace for far too long. I congratulate all of you on this historic occasion and achievement. I salute all deities, all religions, as without their blessings, we could not have come this far. This is a god-given opportunity, which could never have vizualised two years ago," Kejriwal added.
Stating that this was only the beginning of a very challenging and arduous journey and campaign for a better nation and a better Delhi, Kejriwal said: "I alone cannot win this battle against willful waste and corruption. All of us have to be in this together. We do not have the magic wand to solve all the problems of this city, or this nation. The one-and-a-half crore people of Delhi have to join up and help me and my government to overcome these problems of poor governance and corrupt administration.
"Two-and-a-half years ago, we had gathered at this very ground to launch the battle against corruption and bad politics. We joined up here with Anna Hazare. Hazare then described politics as a cesspool and quagmire of dirt, and though he did not agree with me then, I and others who supported me , decided to take the plunge and enter this cesspool of political horror to clean up this city once and for all," Kejriwal said.
Delhi, he said, is suffering from a shortage of water and electricity, besides other major problems.
"We have been struggling for more than two years to end this sytem of bad governance. On this historic occasion, I would like to remember one of our key AAP leaders – Santosh Kohli – who was martyred a couple of months ago. She delivered yeoman service to us, gave us all the encouragment to pursue our dream for a better country, a better capital. I am sure, whereever she is, she would be a very happy person, soul, to see that our efforts have not gone to waste," Kejriwal said.
Stating that a majority of Delhi citizens were not corrupt, and that only some were corrupting the system, Kejriwal urged AAP leaders and ministers to shun their egos and serve.
"The AAP has been created to kill the egos of other parties. Let it not be said that the AAP has acquired an ego on coming into power and government. I am issuing a challenge to the country and the city's communal and corrupt leadership to be wary of what the AAP can and will do to end their reign of terror. The path of truth is not without thorns. It is difficult, but the AAP is determined to accept these challenges that are in front of it now, and will arise in the future as well. The population of Delhi has given us a huge responsibility," Kejriwal said.
"Success is not in our hands. I appeal to God and the people of Delhi to give us the courage to do our duties with responsibility," he added.
Describing senior BJP leader Harshvardhan as a good man, Kejriwal said that he could not say the same for the former's party, and appealed to all parties to join his AAP in making India a great country.
He also said that he was aware that a confidence motion would be moved against his government in a week's time, but added that the AAP was not worried , as to get or not to get a majority vote in the Delhi State Assembly, was a very small and insignificant issue for the AAP.
"We have to take on the bigger challenges confronting the nation. We have sacrificed our jobs, our sources of income, our families, and other personal activities, to accept this challenge for a better Delhi, a better India," said Kejriwal.
"We have the utmost confidence in the people, and believe that over the next few months, and if possible, the next five years, Delhi will be referred to as the "Golden Bird" of India," Kejriwal said.
Having started his address to the people of the city with "Bharat Mata ki Jai" and " Inquilab Zindabad", Kejriwal and his ministers ended the address by singing the patriotic song "Insaan ko Insaan se Bhai Chara. Yahi Paigam hai Hamara.
Thereafter, he proceeded to Rajghat, the memorial of Father of Nation, Mahatma Gandhi, to pray and seek his blessings, and then moved to the Delhi Secretariat to take charge of his chair and his office.
He is due to address his cabinet later this afternoon, and announce the agenda of his nascent administration and the portfolios of his six ministers.