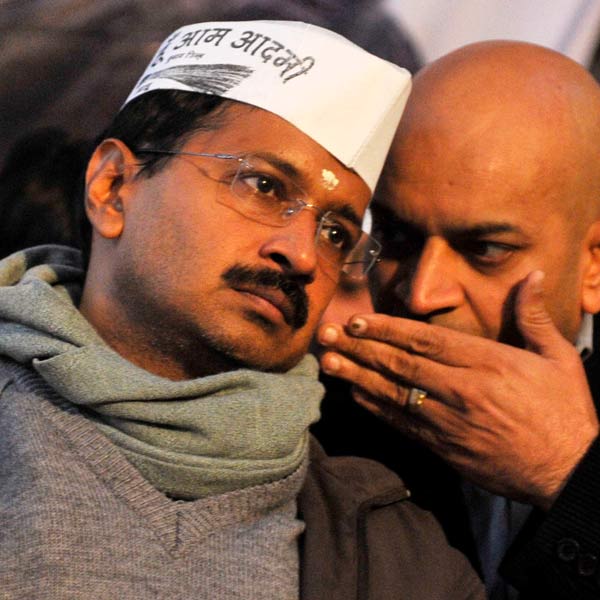 Upping the ante over the Jan Lokpal Bill, Delhi Chief Minister Arvind Kejriwal tonight threatened to resign if his pet anti-graft legislation is not passed by the state Assembly due to lack of support from other parties.
A day after he told PTI that he can "go to any extent" over the "huge" issue of corruption, Kejriwal said he does not have the right to stay in office if the contentious legislation does not get the approval of the Assembly.
The Bill is opposed both by the Congress, whose continued support is essential for the survival of his seven-week-old government, as well as the Opposition BJP.
"To remove corruption from the country, can sacrifice CM seat a hundred times," Kejriwal said, adding the "Government will fall if the Jan Lokpal Bill and the Swaraj Bill is not passed."
Bringing the Jan Lokpal bill to contain corruption was a key election promise made to the voters by his Aam Aadmi Party(AAP).
"To establish Swaraj in the country, CM's seat can be sacrificed thousand times. I have not come here to become the CM," the AAP supremo told reporters.
"I did not come here to become the chief minister. I have come here to remove corruption from the country.
"I am ready," he said when asked whether he was ready to quit on the iseue of Jan Lokpal and Swaraj Bills.
The Jan Lokpal Bill and Swaraj Bill will be tabled on the floor of the Delhi Assembly on February 13, the chief minister said.
In a House of 70, AAP's strength has been reduced to 27 including the Speaker after its MLA Vinod Kumar Binny was expelled from the party while the Congress has eight legislators. The BJP has 32.