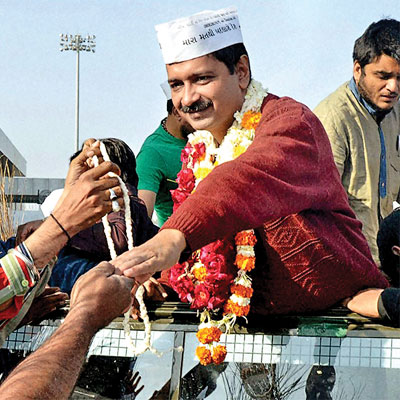 As news of Aam Aadmi Party's (AAP) national convenor Arvind Kejriwal's detention by Gujarat police spread like wildlife, online donations to his party also increased on Wednesday by nearly four times as compared to what party received a day before on Tuesday.
On Tuesday (March 4) AAP received online donations of around Rs6.67 lakh by 377 donors. But on Wednesday after Kejriwal was detained, the online donation saw a huge increase – nearly four times jump — with party clocking online donation of around Rs24.05 lakh by 1,544 donors.
On 6 March, till 8 pm, AAP had received around Rs20.02 lakh by 1,133 donors.
The amount received online was the highest for AAP in the last three weeks or so. Last time, AAP had seen such a spike in donation was when Kejriwal had resigned from the Delhi chief minister's post.
Kejriwal resigned as Delhi CM on February 14 evening and then on February 15 it got online donation of around Rs29.45 lakh and on February 16 AAP around Rs 25.59 lakh. The AAP had also got good amount of funds, around Rs20 lakhs, after Kejriwal's rally in Rohtak.
The data clearly indicates that whenever Kejriwal faces challenge from the established political rivals, his party benefits.
But AAP knows that such incidents are once in a while and in a long run they require much more funds. Kejriwal's detention in Gujarat was thus probably a blessing in disguise for the party.