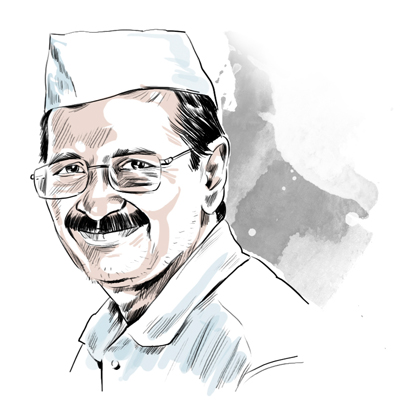 Aam Aadmi Party (AAP) leader Arvind Kejriwal began his road show in Bangalore on Saturday to campaign for his party's candidates contesting the general elections on April 17 across Karnataka.
"Kejriwal's maiden road show in the city is drawing curious crowds and enthusiastic youth, including many who are volunteering to canvas for our candidates in the poll fray from the three Lok Sabha seats in the city," AAP spokesman Rohit Ranjan told IANS.
Kick-starting the road show from Hebbal in northwest suburb amid tight security, Kejriwal's cavalcade passed through thickly populated localities such as Ganganagar, R T Nagar, Jayamahal, Cantonment and Queens Road in the city centre by noon.
Flanked by the party's candidates - former Infosys honcho V. Balakrishnan (Bangalore Central), Nina Nayak (Bangalore South), Babu Mathew (Bangalore North) as well as party's state unit convener Pritvi Reddy - in a maroon multi-utility vehicle with open rooftop, Kejriwal greeted and waved to the people who stood on both sides of the roads.
#AKInKarnataka Updates 13/N pic.twitter.com/tml5JqItDg

— AAP Karnataka (@AAPKarnataka) March 15, 2014
Though the AAP convoy, led by a dozen motorbikes of its volunteers, stuck to the routes and thoroughfares cleared by the traffic police, its slow movement and gathering of people at signal junctions and cross-roads enroute caused grid lock as vehicular movement had to be diverted and restricted to ease the situation.
"We are sticking to the route cleared by the police and conducting the road show in accordance with the model code of conduct with the permitted number of vehicles. Other vehicles behind or in front of our convoy belong to public, including some ardent fans who are extending support to our leader," Rajan said.
The fledgling party's symbol broom was held high by some of the candidates and volunteers.
Halting at every 2-3 km and holding a makeshift mike and loudspeaker, Kejriwal sought the people's support in strengthen his battle against corruption, price rise, criminal politicians and crony capitalists.

@ArvindKejriwal is heading towards Shanti Nagar, Bangalore #AKInKarnataka pic.twitter.com/j29x8Ah4Mx

— AAP Karnataka (@AAPKarnataka) March 15, 2014
"I hope the intelligent and discerning voters of this reputed cosmopolitan will strengthen our party's battle against the ills plaguing the country by joining hands with us," Kejriwal asserted.
Urging the people to press the party's symbol in the electronic voting machines (EVMs) for providing an alternative government, Kejriwal said in chaste Hindi using English words liberally that Bangalore and Karnataka people had great responsibility to clean-up the system for transparent governance, infrastructure development and efficient delivery of goods and services by bureaucrats by electing his party to power.
After winding through the three Lok Sabha constituencies in the city, the road show will conclude at the War Memorial in the city centre by late Saturday.
Kejriwal will also attend a fund-raising dinner at a star hotel in the city late Saturday on the first day of his two-day weekend trip to the state.
He will drive Sunday to Chikkballapur, about 70km from here, to hold road shows and address a public meeting in the backward district from where union Petroleum and Natural Gas Minister M. Veerappa Moily has been re-nominated by the ruling Congress to contest from the parliamentary constituency in the neighbouring district.
On return by Sunday afternoon, Kejriwal will address a public rally at Freedom Park in the city centre as part of the poll campaign.