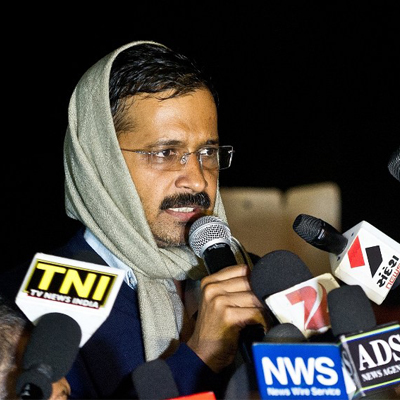 Delhi Chief Minister Arvind Kejriwal resigned tonight after suffering a defeat in the assembly on the Jan Lokpal Bill and in a political gamble he recommended dissolution of the assembly and holding of fresh polls.
Bringing to an end a 49-day roller coaster ride in power, during which he received bouquets and brickbats in equqal measure, the Chief Minister and his cabinet met for one last time when it decided to resign and make the recommendation to Lt Governor Najeeb Jung whose advice against the anti-graft Bill he had defied in the assembly.
Late in the night, Kejriwal, accompanied by a couple of Cabinet colleagues, handed over the resignation to Jung along with the recommendation for dissolution of the House. The Lt Governor is expected to give his report to the Centre tomorrow on whether the national capital should be brought under a spell of President's rule or go for dissolution of the assembly so that polls can be held along with the Lok Sabha elections.
Kejriwal and Jung shared a good equation all along but today he attacked the Lt Governor, saying he acts like a viceroy of the central government which thinks it is still a British Government. Earlier in the day, Jung had advised the Assembly against transacting the Jan Lokpal Bill which he said should have prior clearance of central government.
Straight from the cabinet meeting, 45-year-old Kejriwal, who came to power riding tghe crest of an anti-graft movement and was called an anarchist for his street protest as CM, drove to the AAP headquarters in Central Delhi, three kilometres away from the Secretariat and addressed his supporters in pouring rain when he announced his resignation. "The Cabinet has decided to resign.
We have recommended to the Lt Governor to dissolve the assembly and hold fresh elections," he told a cheering audience wearing AAP's trademark cap which welcomed his speech with a thunderous clapping. Launching a blistering attack on Congress, on whose support he came to power, and the BJP accusing them of "colluding" with Reliance chairman Mukesh Ambani to bring down the government two days after he filed an FIR against him on the gas pricing issue.
"The real face of BJP and Congress has been exposed. They did not allow the Bill (Janlokpal) to be introduced in the House. They defeated the Bill because three days back because we lodged an FIR against Mukesh Ambani," he said. Kejriwal said Ambani was running the Congress government for the last 10 years, saying "Congress is his shop and he can buy anything whenever he wants".
He also did not spare Narendra Modi saying Ambani has been behind him for last one year. "Where are Modi's riches coming from. He is flying by helicopter criss crossing the country. He is addressing huge and expensive rallies. From where does he get money for all this."