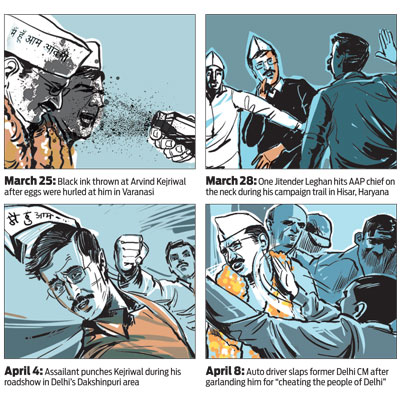 Aam Aadmi Party (AAP) chief Arvind Kejriwal is in the line of attack, literally. The former Delhi CM was on Tuesday slapped by an autorickshaw driver in New Delhi in the second such attack on him in the last four days and the fifth in a month. Earlier, ink and eggs were thrown at him in Varanasi and a man had punched him in Delhi. However, despite this, Kejriwal refuses to take security cover.
Around 1pm on Tuesday when Kejriwal was campaigning in Sultanpuri for Rakhi Bidlan, AAP's candidate from Northwest Delhi, rickshaw driver Lalli Prasad first garlanded the former Delhi CM before slapping him for "cheating the people of Delhi". Lalli was then thrashed by AAP supporters after which he was taken to the Sanjay Gandhi Hospital for medical examination. "All the people in Delhi voted for him. We autowallas gave donation to his party in the hope that he would do something for us, but he cheated us," Lalli said.
Interestingly, the party saw a surge in donations immediately after the attack. AAP received more than Rs64.5 lakh till 5pm on Tuesday. The figures were Rs55 lakh, Rs33 lakh and Rs30 lakh on April 5, 6 and 7 respectively.
Kejriwal remained unperturbed by the attack. He went to Rajghat for an hour along with his supporters after being slapped. "If violence can solve the problem, they can tell me the place and time, I will come there. Let them beat me as much as they want… but will that solve the problem?" Kejriwal said during a press conference held at his residence later in the day. He said he expected more attacks on him in the future. "There could be more attacks on me and other AAP leaders. I may even lose my life. But I have asked my volunteers not to hit back. Because if we hit back, there won't be any difference between the attackers and us."
With the first phase of polling already underway, Kejriwal hinted at a political conspiracy behind the attacks on him. "I am just thinking... why am I being repeatedly attacked? Who are the masterminds?" he said.
The former Delhi CM was first targeted in the first week of March when his car's glass was broken during his visit to Gujarat. The second attack took place in Hisar during his roadshow when a youth hit Kejriwal on the neck. Later, in Varanasi, ink was hurled at him and eggs were thrown at the AAP chief. Last week, when Kejriwal was shaking hands with his supporters in Delhi's Dakshinpuri area, he was punched on his back and a person even tried to slap him.