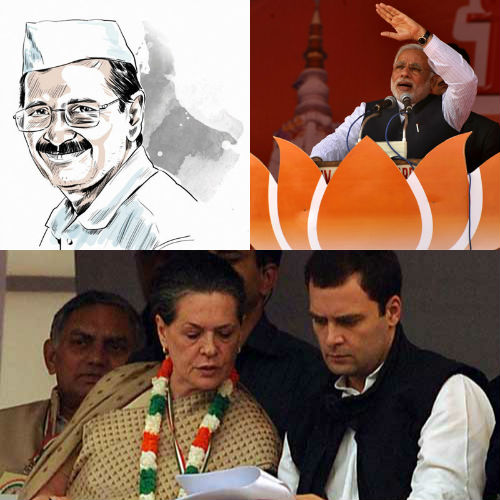 A day after AAP volunteers were attacked by BJP workers in Varanasi, Arvind Kejriwal targetted the party of hooliganism. He said that AAP workers were being threatened and even common masses in Varanasi were worried.
He said, "Our pamphlets are being snatched, posters being torn from Auto rickshaws and tense atmosphere is being created in Varanasi."
Kejriwal targetted BJP and Congress for alliance by stating that both parties were hand in glove and defending each other. He said, "We registered fiveFIR's against Sheila Dikshit and one FIR against Ambani in 49 days. Then, why can't BJP in Rajasthan register FIR against Vadra?."
Here's what he spoke at the meet:
*People in Varanasi are afraid to vote and fear security at polling booths
*I want to safeguard Varanasi's rich cultural heritage
*AAP is not scared of hooliganism and attacks
*I have been campaigning in Amethi for Kumar Vishwas and will continue campaigning.
*If Rahul Gandhi loses from Amethi then Congress will have a penultimate defeat
*If Narendra Modi loses from varanasi, BJP will be in shambles
*People should defeat both Narendra Modi and Rahul Gandhi for a clearer governance
*BJP can file FIR against Vadra and get him arrested. But, they are not doing anything beyond accusatory remarks
*Congress could have followed up on Modi's snoopgate but they refrained from doing anything concrete on it
*There is a deal between BJP and Congress and public is being fooled
The backdrop:
Taking the dig further, he added that BJP and Congress were just taking potshots at each other for namesake. He said, "Why is Modi not going to campaign in Rae Bareli and why is Sonia not campaigning in Varanasi? Some setting already?."
"Earlier only I was being attacked, but now even common people are being attacked by BJP's hooligans," added Arvind Kejriwal in a press conference.
AAP supporters have been tweeting against the attack with hashtag #BJPGoons.
Three AAP volunteers were injured in an alleged attack by some suspected BJP workers in Assi Ghat in Varanasi following which an FIR has been lodged against 15 unidentified persons.
AAP volunteer Ankit Lal said that they were drinking water at a shop in Assi Ghat area last night when a group of alleged BJP workers asked them to remove their party caps and when they refused to do so, they were beaten up.
The BJP has promised action if at all its workers were involved, but has also suggested that the AAP volunteers may have provoked an argument that led to a fight.
The Varanasi police said AAP volunteers Nandan Mishra and Ankit Lal had an argument last night with some people who wore BJP badges at the Assi Ghat in the temple town, which later turned into a brawl. They have registered a complaint against unknown people.
AAP volunteers attacked by alleged BJP workers
Station House Officer of Bhelupur Police Station V K Singh said AAP volunteers had an argument with some alleged BJP workers at Assi Ghat area and soon a scuffle broke out. AAP volunteers registered an FIR against 15 unidentified persons, he said. In their complaint, AAP volunteers alleged that a group of alleged BJP workers had beaten them up, Singh said.
All three AAP volunteers- Nadan Mishra, Ankit Lal and Prabhat- are associated with Play4change, a musical election campaign group that travels from city to city for the party campaign.