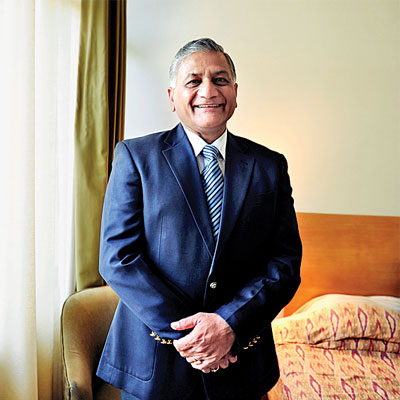 Amid the ruckus in parliament on the issue, defence minister Arun Jaitley has pulled up defence secretary RK Mathur for using strong words in the recent affidavit filed in the Supreme Court, which created embarrassment to the newly-elected NDA government.
Defence ministry officials claim that though Jaitley was in the know of the affidavit, he is believed to be unhappy over the use of 'strong and harsh' words by the ministry against his ministerial colleague Gen VK Singh (retired).
On Wednesday morning, Jaitley summoned defence secretary RK Mathur to his office and expressed his displeasure over the language used in the affidavit.
"It is important to state here that the imposition of disciplinary and vigilance (DV) ban against Lt General Dalbir Singh Suhag was found to be illegal, premeditated, without merit and against the principles of natural justice and hence closed after consideration of the case of the new chief of army staff, who succeeded General VK Singh," said the affidavit filed on June 4.
Sources have told dna that last week defence secretary RK Mathur had apprised Arun Jaitley of the issue of filing the affidavit in the Supreme Court on behalf of the ministry.
Meanwhile, the union government on Wednesday asserted that the appointment of Lt Gen Dalbir Singh Singh Suhag as the next army chief was final even as union minister VK Singh targeted the officer on the social media.
"As far as the government is concerned, appointment (of Lt Gen Dalbir Singh as army chief) is final and government stands by it," defence minister Arun Jaitley said in Rajya Sabha.
Jaitley said the previous UPA government had made the appointment a few weeks ago and it is a practice that "we keep" some issues outside the "realm of inter-party politics".
Gen VK Singh on late on Tuesday had reacted to the government's affidavit in the apex court stating that "defence ministry affidavit is the same as it gave to the Armed Forces Tribunal under protective
and conniving UPA".
In his tweets, he also justified his decision to impose a discipline and vigilance ban on Lt Gen Suhag saying that "If unit kills innocents, does dacoity and then head of organisation tries to protect them, should he not be blamed? Criminals should go free!!."
He was referring to the reports that a unit under Lt Gen Suhag had allegedly carried out killings and daocities in the North East region when he was commanding the Dimapur-based 3 Corps.
Meanwhile, Lt Gen Ravi Dastane has moved Supreme Court for stay of Suhag's appointment for the top post. The BJP government has filed the affidavit on the plea of Lt Gen Dastane, pending before the apex court. Dastane's plea alleges favouritism in the selection of Lt Gen Suhag as the Eastern Army commander.