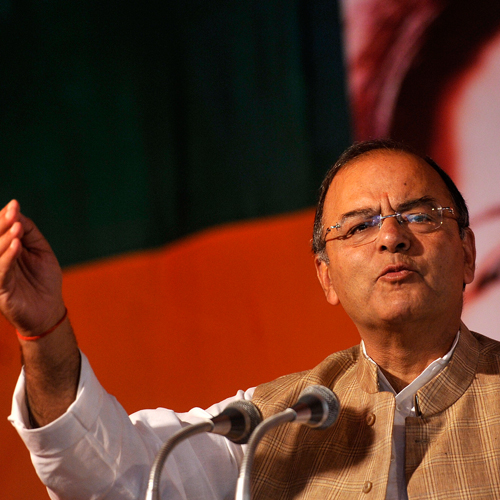 After Sonia Gandhi's appeal, which was telecast on Monday night by several leading news channels, prominent BJP leaders stated that the appeal made by Gandhi was fake and emotional.
Among them, BJP veteran Arun Jaitley, took to twitter and his blog to target Gandhi's appeal. Calling it 'a desperate attempt to reach out to the people' Jaitley said, "Speeches, interviews and press conferences of political leaders are always covered by the media. The Congress president does not have to buy television time in order to have her speech conveyed to the people."
Congress Party's New Slogan : "Mein Nahin Mom" http://t.co/oN6bNXieDp

— Arun Jaitley (@arunjaitley) April 15, 2014
He also refers to the Congress' televised advertising campaign as too abstract and confused, stating that the message is unclear. "The Congress Party changed track on Monday, Rahul Gandhi led campaigns and the accompanying advertisements were given a backseat. The Congress President Sonia Gandhi herself decided to lead from the front. She addressed the country by booking television time on all channels," he blogged.
"Messages on paid television time cannot change the electoral agenda in the last minute. Price rise, mismanagement of the economy, corruption, dilution of the office of Prime Minister cannot be a part of either 'Bhartiyata' or 'Hindustaniat'. This message will not click. The only message yesterday's speech of Sonia Gandhi telecasted on paid television time is that Congress party's new slogan now is 'Mein Nahin Mom'," he wrote.
Gandhi's three minute appeal, in Hindi, asked the citizens to vote wisely and without mentioning any party's name or the name of their candidate, she said, "We want unity and they want to impose uniformity. They ask you to trust them and their vision, which is clouded with hatred and falsehood. Their ideology is divisive and autocratic and will ruin our Bharatiyata (Indianess) and Hindustaniyat."
Further talking about what makes her proud to be an Indian, she said, "It is our ability to uphold certain core beliefs and values that have united diverse people into one nation. India is founded on certain core beliefs and values. It is these basic beliefs that have united all of us, diverse people, into one nation. This I learnt from you, when you made me one of your own."
In conclusion, the Congress party President appeals to the people to chose their candidates wisely.
Read more : Sonia Gandhi's appeal "fake": BJP