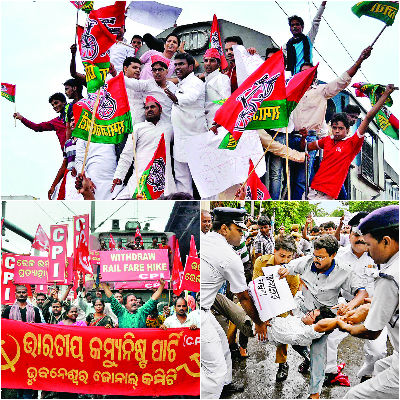 The 14.2 per cent hike in rail fares by the Narendra Modi government has raised considerable number of hackles. But more than the common man — who seems to still have faith in Modi's pre-election slogan 'Ache din aane wale hain' — it's opposition parties such as the Congress, the Samajwadi Party and the CPM that have found reason to cry wolf.
Defending the hike, finance minister Arun Jaitley, who was party to railway minister Sadanand Gowda's decision to carry forward the Manmohan Singh government's curtailed notification to hike passenger fares and freight rates, said it was a "difficult but correct decision", and that "railways can only survive if users pay for availing facilities".
Jaitley said the government had two choices: either allow the railways to bleed and end up totally ruined or take steps to bring it around, put it back on track. "Does India want a world-class railway or a ramshackle one," Jaitley asked with his usual flourish.
The finance minister's attempts to inform the people that for "Ache Din.." to come, some sacrifices need to be made in the short-term, appeared not to have many takers in the Opposition. On Saturday, opposition parties took to the streets of Delhi, and in other parts of north India, mocking Modi's 'Ache din aane walen hain' promise. Down south, DMK chief M Karunanidhi, said in Chennai that "the BJP government's approach is not any different from that of the UPA".
In the national capital, the Congress's Delhi unit chief Arvinder Singh Lovely led the protests. The police had to set up barriers to hold back the protesters, and use water cannons to disperse them from blocking roads.
For the Congress in Delhi, the fare hike couldn't have come at a more opportune time. With elections in Delhi more or less a certainty, and likely to take place not too far in the future, the rail fare hike issue is an emotive one, which the party hopes to exploit to the hilt.
There were also reports of protests in Uttar Pradesh and Bihar. In Varanasi, Modi's constituency, and in Allahabad, people resorted to roadblocks to hit out at the fare hike and demand its immediate rollback.
At the vanguard of the protests in Bihar was the protester for all seasons, Lalu Prasad Yadav, who when he was railway minister from 2004-09 had studiously avoided raising passenger fares. On Friday, within hours of the hike, Lalu was ranting on 'Ache din...', and breathing down the Modi government's neck for putting the poor of this country at a disadvantage.
As for the common man, he's angry. There are many in the NCR who travel by electric multi-units (EMU) on the strength of fairly cheap monthly season tickets. The fare hike has left pockets lighter, and burden heavier. For them, 'Ache din' is many miles and days ahead.