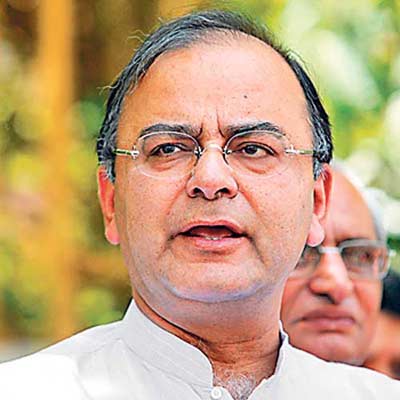 Balwinder Singh has only one lament—three acres of his land falls on the other side of the fence along the India-Pakistan border. There are other farmers like him in the gathering listening to BJP leader Arun Jaitley, who is promising to be their voice in a Narendra Modi government, if it comes to power.
Just around 400metres away from the wire fencing and around 35km southwest of Amritsar city, Jaitley's battle here revolves around the challenges of life in a border village.
Around 20,000 acres of land is on the other side of the border across six districts. In 47 border villages of Amritsar, 3,327 acres of land is across the fence. "This is the main problem of the people here. The farmers get only 5-6 hours a day when the gates open to tend to their land," says Dalbir Singh, another farmer.
As Jaitley rises to speak, a youth whipers, "Is this Modi?". His friend tells him its Jaitley. The youth, John, has only heard of Modi, never seen him because he does not have access to private television channels in his home where he gets only Doordarshan and Pakistani channels. But John has decided to vote for Modi.
He turns his attention to Jaitley who, breaking into fluent Punjabi, begins with Attari's history and problems its people faced during Partition. He recalls how the Vajpayee government had decided to give Rs 5,000 per acre to farmers whose land extended beyond the border. He pledges to revive the compensation scheme, giving a boost to border trade and working towards setting up industry to create jobs.
"If there are jobs, the youth will not digress on to the wrong path.... If you give me a chance for five years I will be your voice and address your concerns... To fulfill your dreams will be my aim," he says.
His audience seems convinced he will. After all, Jaitley, who is contesting his first Lok Sabha election from Amritsar, is seen as the leader tipped to be the finance minister in a Modi regime.
As he hops from one village to another, stopping for breakfast or lunch at a supporter's house relishing the Punjabi hospitality, he recalls his visits here as a child.
"My father was from Lahore and mother from Amritsar. This place is just in between the two," he says in another border village, Chicha.
Flanked by Akali leaders including Punjab minister Gulzar Singh Ranike, Jaitley exudes confidence of having an edge in this Akali stronghold along the border.
It's in Amritsar that the battle is harsh. But, Jaitley, a key strategist who played a critical role in getting BJP to anoint the Gujarat chief minister as the party's prime ministerial candidate, is banking on being seen as a "powerful" voice in Delhi.
Passing by the sprawling Company Bagh, where he takes his morning walks these days, he recalls running into his Congress rival Amarinder Singh. "I am a natural walker. He walked because of a political necessity," he says.
Jaitley promises better infrastructure, food streets, amusement parks and making the place a tourist hub. He focuses on development issues, occasionally drifting into castigation of "Captain Saab", the maharaja of Patiala with whom he is locked in the battle for Amritsar, which has a 60% Sikh population.
Having bought a house in Amritsar and settled into a routine of the "heat and dust" of campaigning, the Rajya Sabha leader is at home, brushing aside the "outsider" tag.
Abhimanyu, a businessman in Amritsar, says Jaitley has an edge because if BJP comes to power at the Centre it will benefit the state. He praises the AAP candidate, Daljit Singh, a doctor, describing him as a "learned, honest, nice man", but says: "do we want just nice people?"
He says there is anger against the ruling Badal government but that may not go against the BJP because Jaitley is seen as someone who may be able to influence the Akali Dal.
The Congress dismisses this theory saying the Akalis are not in a position to win even a single seat, let alone help the BJP leader.
"Jaitley faces certain defeat. He anyway agreed to contest his first election from Amritsar because the Akali Dal promised to fight for him. With Amarinder, Jaitley is scared and Badal knows his party can't fulfil its promise. So this ploy is to fool the voters," says Congress's Shakeel Ahmed.
Tarsem SIngh, a taxi driver, is disillusioned with all established political parties saying none of them bring down the prices of even "dal, roti", the staple of the poor. He is considering voting for the AAP.
But, Jaitley is absolved in his new experience of fighting a Lok Sabha poll, which is still almost three weeks ahead. After his public rallies, Jaitley dashes off to Jalandhar where he has tea with the Bishop. As the sun sets, he still has more on his schedule and he keeps his word, returning home only after dinner.