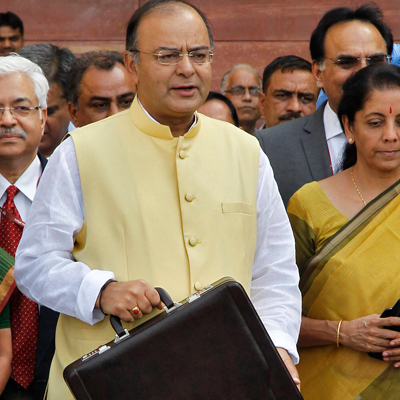 Finance Minister Arun Jaitley has ended the presentation of his maiden General Budget for the year 2014-15. Jaitley, who began presenting the budget proposals for fiscal 2014-15 with the permission of Lok Sabha Speaker Sumitra Mahajan at 11am on Thursday, ended the presentation at 1.15pm.
Soon after ending the presentation of the General Budget proposals for fiscal 2014-15, Lok Sabha Speaker Sumitra Mahajan adjourned the House till 11am on Friday. Earlier, Jaitley began the presentation by saying that he was doing so with the full knowledge that the people of India are passing through some tough economic times, and that the government is duty-bound to address those concerns brought on by a high fiscal deficit and a high level of subsidies.
He said that it would be the government's endeavour to take some bold intiatives and steps to alleviate some of the economic problems faced by the nation at this point of time. Before coming to the Parliament to present his maiden budget, Jaitley visited the finance ministry and Rashtrapati Bhawan before heading for parliament to present the general budget for 2014-15.
People all around the country are hoping for a respite from inflation. A housewife in Kanpur complained about the increasing prices of fruits, vegetables and even cooking gas. She said, "The prices of petrol and diesel have also been hiked. The government must pay attention to control the price rise of essential commodities."
An economic survey presented two days back mentioned that massive efforts are needed in the form of investment in social infrastructure, skill development and empowerment of women.