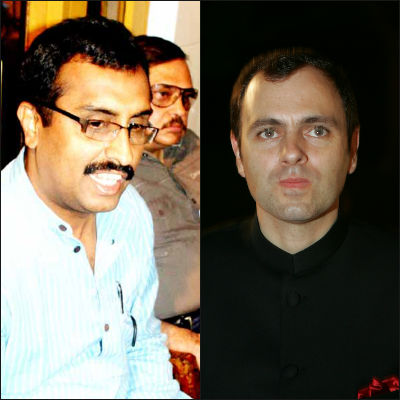 Just two days into the formation of the new Cabinet, Narendra Modi's government already finds itself amidst a political debate centred around Jammu and Kashmir and Article 370. The debate was triggered after Dr Jitendra Singh, who was inducted as a minister of state in Prime Minister Narendra Modi's Cabinet, said the government was open to a debate on Article 370, which grants autonomous status to Jammu and Kashmir.
Incensed by Singh's remarks, Jammu and Kashmir Chief Minister Omar Abdullah said his state would cease to be part of India if Article 370 is revoked.
Mark my words & save this tweet - long after Modi Govt is a distant memory either J&K won't be part of India or Art 370 will still exist 2/n

— Omar Abdullah (@abdullah_omar) May 27, 2014
Art 370 is the ONLY constitutional link between J&K & rest of India. Talk of revocation of not just ill informed it's irresponsible. 3/3

— Omar Abdullah (@abdullah_omar) May 27, 2014
These statements stirred up RSS spokesperson Ram Madhav, who retorted saying the state of Jammu and Kashmir has always been an integral part of India, and always will be. He also asked if Abdullah considered J&K to be his parental estate.
J&K won't b part of India? Is Omar thinking its his parental estate? 370 or no 370 J&K has been n will always b an integral part of India.

— Ram Madhav (@rammadhavrss) May 28, 2014
The much talked about Article 370 grants special autonomous status to the state of Jammu and Kashmir. As per the article, except for Defence, Foreign Affairs, Communications and ancillary matters (matters specified in the instrument of accession) the Indian Parliament needs the State Government's agreement to apply all other laws. This implies that the residents of Jammu and Kashmir have a separate set of laws, as compared to other Indians, including those that concern citizenship, ownership of property, and fundamental rights.
As the argument escalated quickly, Jitendra Singh, who initially started this storm, issued a statement saying he had been misquoted. "I seek to clarify that the reports in the media about my statement on Article 370 are misquoted. I have never said anything quoting the Honourable Prime Minister. The controversy is totally baseless," he said.
First day; first show :-) pic.twitter.com/5HbRE91DFo

— Omar Abdullah (@abdullah_omar) May 27, 2014
Singh had also made it clear that the BJP stood for the abrogation of Article 370, but at the same time it wanted to convince the people and have a democratic approach to finding a lasting solution to the issue.
"If we do not have debate and discussion, how would you be able to tell those who have been unable to understand what they have been deprived of on account of Article 370"? Singh said after taking over as Minister of State in charge of Department of Personnel and Training (DoPT), which has administrative control over CBI.