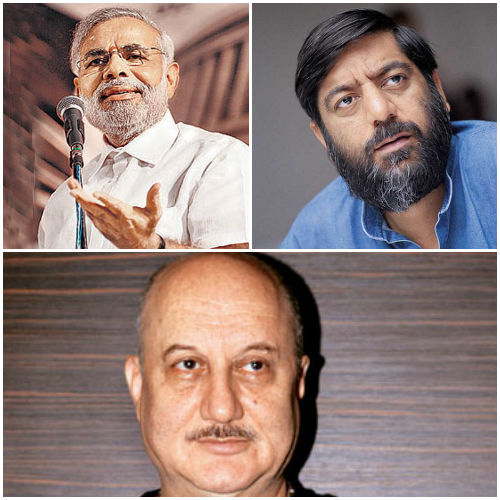 Polarisation within the Hindi film industry on the issue of Narendra Modi as Prime Ministerial candidate has intensified. The latest controversy erupted with the director of 'Final Solution', Rakesh Sharma tweeting against former Central Board of Film Certification (CBFC) chair and pro-Modi Bollywood actor Anupam Kher's claim that he was mainly responsible for clearing the film under NDA rule. The film was based on the 2002 Gujarat Riots
Sharma rebutted Kher's claims. According to him, Kher is trying to glorify himself as the messiah of 'free speech'.
Edited excerpts of an interview to dna
While there was opposition to your film, CBFC had finally cleared it with no cuts. So, why is the whole issue being raked up again?
The issue was raked up by Anupam Kher when he made statements to glorify himself on news channels. When he was the Censor board chief, my film was banned as it was an insight into Gujarat riots. I had to come out and rebut his claims as they are false.
Considering Kher supports BJP, do you think that he is making these statements for the party's benefit?
I don't think that his lying will benefit the party in any way whatsoever. Whatever he said is utter rubbish and he was not responsible for clearing my film. When the film got clearances, UPA government was in power. He is just trying to present himself as a messiah of free speech. During his tenure, I was harassed and CBFC refused to watch my film and banned it. Numerous frivolous notices were sent to me by CFBC.
The statement, "I had cleared the film under BJP's rule' was made by Kher. Can you explain the backdrop of the events that transpired before your film got clearance?
My film received clearances on 10th October 2004 by a panel headed by Shyam Benegal.
Your film received national award for its strong content from government of India. Does it feel negative that Kher is trying to take focus away from film's engaging content towards politics?
Yes, it does take away from the content. Kher is NDA government's symphatiser and hence was hired at the board. At that point of time, he made attempts to make sure that the film would not see the light of the day as it was based on events that transpired the '2002 Gujarat riots'. My friend Anant Patwardhan took the legal route (Revising Committee, Tribunal, High Court and then SC) and it took him 2-3 years fighting a legal battle, during which process, a film remains buried, I decided to fight the ban in public realm!
It was in those days when Tehelka had not done investigative coverages of Gujarat riots and Narendra Modi's hate speech. Parties were trying to muffle voices which would go against the Gujarat government and reveal truth about riots.
What is your next course of action against Kher?
I have strongly rebutted Kher's comments and will continue doing so. He has lied on record while facts tell a different story altogether. Now, the ball is in Kher's court. Either he can gracefully accept his memory loss and self-glorification or continue with his lies.
My resistance will continue if he does not come clean on his statements. I will use all the forums possible to spread the word.
Any legal actions?
No, his actions are 'self-glorification' and do not need legal action as of now. I Will wait for his response.
You also stated that the examining committee did not view the film in its entirety when it went for examination. Why do you think do such lapses happen?
Censor board should not be allowed to maim, mutilate or crop movies. They should just be allowed to rate films and suggest cuts. Film-making is a creative process and any form of curtailment will lead to disasters. People constituting the CFBC bench do not know legalities and vision of directors.
There should be another body which consists of special judges of High courts who can judge films on the basis of content. This is very similar to Press Council of India which is an autonomous body governing press. It should be populated with creative artists, social scientists, High Court lawyers who have an understanding of the subject matter.
What usually happens is that when political bodies aren't able to fit their sympathisers with any government body, the next solution is to adjust them into CBFC. These people are novices with no knowledge about legal or creative matters. Hence, clashes arise leading to muffling of freedom of speech. It is a wastage of tax-payers money.
What do you think about freedom of speech if BJP led NDA government comes into power?
I don't apprehend major changes as government bodies have realised the power of common man. I hope that BJP has matured and understood that India is a vibrant democracy and they cannot possibly muffle voices here.
Once Indira Gandhi had tried doing the same and failed. Hence, any government that comes into power at the centre should tread a careful path and acknowledge public voices. If they don't, then they will alienate their own followers in the long-run.
What is your take on BJP's prime ministerial candidate Narendra Modi?
Narendra Modi is unfit to lead the country based on his track record consisting of Gujarat riots. The 2002 stain which he never clearly answered is an abysmal proof of his poor credentials. Not even a single legislative assembly functioned with freedom under his rule. He used his powers and conducted budget session without any opposition. Mr. Modi isn't an institution-builder and consensus-maker and even opposed an Independent Lokpal by spending Rs 40 crore.
He is an autocrat who runs government according to his diktats and this ruined Gujarat's governance. India is headed towards disaster under this formula. India is a diverse country and I don't think Narendra Modi has the vision to take the country's towards development goals.