Speculating the culmination of an unfair nuclear agreement, activists across the country and even the world are participating in a three-day long protest across cities and media
Indian anti-nuclear activist group, Coalition for Disarmament and Peace, gave a clarion to observe January 25, 2014, as a national day of protest against Japanese Prime Minister Shinzo Abe's visit to New Delhi as chief guest for national Republic Day celebrations.
This visit will also serve as a point of conclusion on the India-Japan nuclear agreement which the two governments have been pushing for a long time.
While grassroots anti-nuclear movements have been organised for places like Kudankulam, Jaitapur, Fatehabad, Kovvada, Mithi Virdi and Chutka, larger cities such as Delhi, Mumbai and Bangalore, too, will see demonstrations by citizens groups.
The first phase of the series of protests was initiated yesterday at Azad Maidan in Mumbai. "The activity is targeted against the India-Japan nuclear agreement, which has been in pipeline for several years and is likely to be culminated during Shinzo Abe's visit," explains anti-nuclear activist Anuj Wankhede.
Further elaborating on the purpose and demands of this nationally orchestrated event, he says, "This nuclear agreement is anachronistic, absurd and unacceptable to people in Japan who are witnessing a still unfolding disaster in Japan, and people in India who are brutally silenced by their government indulging in nuclear expansion misadventure. It is heartening to see that this campaign has received solidarity from people across the world who realise the risks of nuclear energy in a post-Fukushima world."
Also, while most of the protesters stuck to regular demonstrations, protests near the controversial Jaitapur nuclear plant, that largely involve the fisher folk from the area, organised a more aggressive 'Jail Bharo Andolan' against Areva's proposed project for world's biggest nuclear power park there.
On the other hand, protests in Mumbai, that saw the presence of hundreds of activists across the city, boasted posters with slogans such as 'NO More Fukushima' and 'Mr. Abe, you are welcome to India, Nukes are Not'.
Organisers claim that the impact of these protests was seen at a global level with individuals sending in their pictures from protests in Tokyo where Japanese citizens have posted themselves outside of Shinzo Abe's residence.
The online battle
A large number of people also participated online and have sent their self-portraits with the poster, translated into many Indian languages and also Japanese. These self portraits would be used for a large collage and displayed prominently in various cities in India during Abe's visit.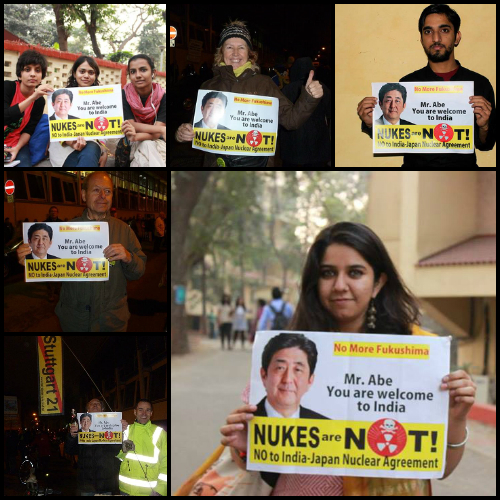 "In India, the collage will be launched by children in Idinthakarai village in Koodankulam, where a massive peaceful movement against Koodankulam nuclear power plant has been underway after Fukushima, and has faced violent repression by the state in which two people were killed in 2012," their website inform.
More details on the various protests, can be found here.