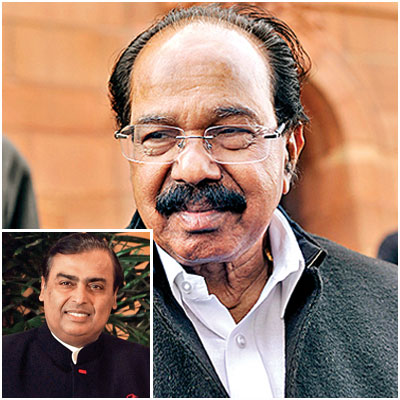 Delhi's Anti-Corruption Branch (ACB), investigating the alleged illegal gas price hike by Reliance Industries, has called one of the complainants to record her statement in the case, dna has learnt. It has also written to the petroleum and gas ministry, Comptroller and Auditor General of India (CAG) and to the Director General Hydrocarbons (DGH) seeking relevant documents and records.
The ACB lodged an FIR against four people — Reliance Industries chariman Mukesh Ambani, Union petroleum minister M Veerappa Moily, former petroleum minister Murli Deora and former director general of Hydrocarbons VK Sibal — under various sections for cheating and fraud, misuse of government officials authority for private gain and criminal conspiracy. The FIR was lodged at the behest of former Delhi chief minister Arvind Kejriwal, who was approached separately by four individuals complaining about the illegal hike in gas price to $8.4 per mmbtu (one million British Thermal Unit) from April 1, 2014.
The ACB confirmed that senior Supreme Court lawyer Kamini Jaiswal has been called to record her statement; the other three complainants in the case are former cabinet secretary TSR Subramaniam, former Navy chief Admiral RH Tahiliani and former secretary to the government of India EAS Sarma.
"All the allegations made in the complaints are a matter of investigation. One of the complainant is being called for recording the statement, The others too will be called in due course of time," an ACB source said on condition of anonymity. "We are seeking documents from various offices and that takes time. It is difficult to predict in how much time we will be able to file a charge sheet."
The four complainants have alleged that the petroleum ministry have undue favour to Reliance Industries Limited (RIL). The FIR states that in 2004, the Ambani-owned behemoth signed a 17-year contract with the National Thermal Power Corporation (NTPC) to supply gas from its KG basin at $2.34 per mmbtu. However, in 2007, under pressure from RIL, the then petroleum minister Murli Deora revised the gas price to $4.2 per mmbtu after Reliance refused to supply gas to NTPC on the agreed price citing rising international gas prices as well as increased cost of extraction. The Congress-led UPA government has now once again decided to double gas prices from the existing $4.2 (Rs 262.25) per mmbtu to $8.4 (Rs 524.20) per mmbtu.
The CAG too pointed out irregularities in RIL's capital expenditure while the DGH allegedly facilitated the fraud by taking just 53 days to approve RIL's cost increase of nearly $6.3 billion, according to the FIR.