Disappointed over recent gaffes IIT-Kharagpur students created a Facebook page against the party.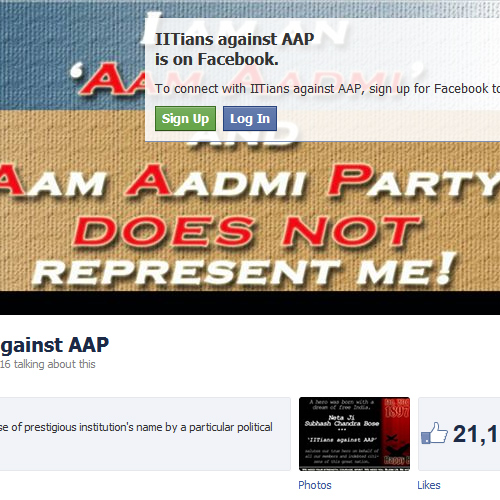 The euphoria at IIT Kharagpur after stunning success of Aam Admi Party (AAP) in Delhi Assembly Elections seems to be over. The alumni and students of this prestigious engineering institute- the alma mater of Delhi Chief Minister and AAP chief Arvind Kejriwal have created a Facebook page AAP".
This page is openly criticizing AAP and Kejriwal with IITians across the world pouring out their sentiments against recent gaffes of the party. Within few days of creation, the page status reads- 21,000 likes and 14,000 talking about it. Its profile pic says, "I am an Aam admi and Aam admi doesn't represent me."
The IIT-Kgp students have been strongly supporting Kejriwal till recently. Over 400 students have joined the party also and were aggressively campaigning in other IITs and even in Bengal for Loksabha elections.
They are now getting restless especially after Somnath Bharti's face-off with Ugandan women and Kejriwal's two day Dharna which prompted them to think that party seeks cheap publicity.
"This is a very embarrassing situation. I am finding it tough to face my fellow classmates who left no chance to tease me over the party's irresponsible behaviour," said one of the students. Other posts also bear similar sentiments.
A student advises Kejriwal to stop such gimmicks and look for "mature long-term" solutions. Prof HC Gupta from IIT Kanpur questions, Kejriwal promised to ensure women safety. Then why didn't he do anything in case of Ugandan women?
While majority of them are yet to come over from the shock of APP accepting support from Congress to form the government, some are questioning Kejriwal's credibility also. A 1991 alumnus of IIT Delhi S Manjo says,"We didn't expect Kejriwal would make such blatant mistakes immediately after assuming office. First he said, he has all documents against Shiela Dixit and now saying that a lot has to be investigated before making these public?"
As IITians across India and the globe was feeling proud and celebrating Kejriwal's success as if it was their own, the fresh developments have led to mass –embarrassment as well.
The topic dominated at last week's alumni meet at IIT-Kgp. According to reports, the alumni expressed fear for the future of the party. Kejriwal was also invited for this meet for which invites have been sent in December though Delhi CM didn't attend it.