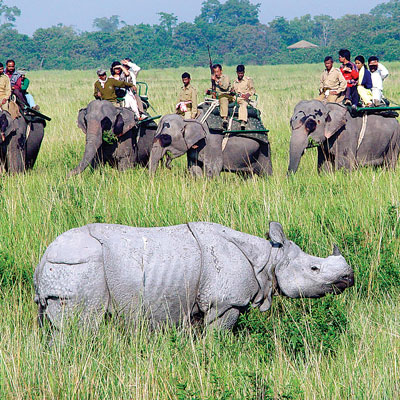 A female rhino was killed and its horn sawed off by poachers at Kaziranga National Park in Assam on Wednesday.
With this, altogether 13 rhinos have been gunned down by the poachers in the park so far this year. Two others were killed in the Pobitora Wildlife Sanctuary and the Manas Tiger Reserve.
"Today's incident took place at the Burapahar range (of the park). At least three to four poachers were involved and they were armed with AK-47 rifles," divisional forest officer SK Seal Sarma told dna.
"There is no shortage of forest guards in the park. It happened in five minutes near the Borgung camp. The poachers fled after committing the crime and were hiding inside a jungle. However, the forest guards managed to spot them soon after. A gun-battle is currently on," he added.
Used cartridges of AK-47 and .303 rifles were recovered from near the carcass.
The unabated killings of the animal made wildlife activists and groups to demand the resignation of forest minister Rockybul Hussain. Peasants' body Krishak Mukti Sangram Samiti, which staged a dharna on Monday in protest against the killings, said the rhinos would continue to fall prey to the bullets of poachers unless Hussain was not removed.
According to a survey conducted last year, Assam has 2,552 rhinos. The number of rhinos estimated in Kaziranga National Park is 2,329. Pobitora Wildlife Sanctuary and Orang National Park have 100 each while Manas National Park has 23 rhinos. As many as 88 rhinos were killed by the poachers in the state from 2008-13.
The horns are high in demand in the south-east Asian countries where each could fetch around Rs.1 crore in the black market.