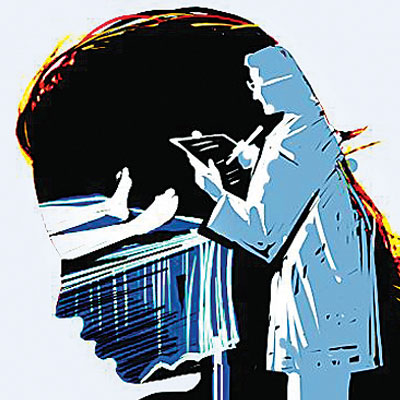 It was another fairly "routine" and "normal" day in Uttar Pradesh, if one were to use the words of UP Police chief AL Bannerji. Another gang-rape was reported from the by-now-infamous Badaun. Besides, three more BJP leaders were attacked in various parts of the state, one of them was found dead, another, a woman MP, was fortunate enough to escape unhurt in an assault while a third one's mother got a gunshot wound in an attack on his house.
The incidents happened even as chief minister Akhilesh Yadav and his entire ministry were in a huddle at Mulayam Singh Yadav's residence where the SP supremo cracked the whip, telling the ministers that law and order was the top priority of the government and they should put in their best efforts to refurbish the image of the SP regime which has of late cut a sorry figure over the spurt in crime, especially those against women.
Just Saturday evening, a young Congress leader Daddan Singh (35) and his driver were sprayed with bullets in the VIP constituency of Amethi. Daddan was the son of former minister and ex-MLA from Amethi Jang Bahadur Singh, and district unit general secretary. In his FIR, the ex-minister has named a legislator of the ruling Samajwadi Party, who is related to a prominent Cabinet Minister in the Akhilesh Yadav government, as the prime accused in his son's murder.
UP DGP Bannerji had recently said such incidents were routine and normal, and that he saw no unexpected spurt in crime in UP.
In Badaun, a 35-year-old woman labourer accompanied by two children was gang-raped by two of her neighbours and an associate in Bisauli police station area. The victim's neighbours Himanshu and Khaleefa and the third unidentified accused are absconding.
Bisauli station officer Jeet Singh said the house in which the alleged incident took place belongs to Himanshu who had visited her house Friday saying he wanted to rent out his house. She accompanied him with her two children to see the house where Himanshu and the other accused allegedly raped her.
In another case, Rakesh Rastogi, a BJP leader from Uttarakhand was found dead in his car near Baheri in Bareilly. Multiple injury marks were found on his body. He had reportedly gone missing after he left his house on Friday evening. "According to the post mortem report, he was strangulated," Baheri circle officer Kalu Singh told media.
Rastogi is the third BJP leader to be killed over two weeks in UP. Earlier, BJP leader Vijay Pandit was gunned down in Dadri last week while Muzaffarnagar BJP leader Om Veer Singh was killed on Tuesday. BJP worker Puneet Singhal was shot at in Bulandshahr on Wednesday and was critically injured.
In Fatehpur, an attempt was made on the life of newly-elected BJP MP Sadhvi Niranjan Jyoti allegedly by three persons but she escaped unhurt, police said Sunday. One of the attackers has been arrested.
Unidentified gunmen attacked another BJP leader Devendra Sharma's house in Mathura on Sunday. Sharma's mother got a gunshot wound while the shooters escaped. Police had no clue about the assailants till late evening.