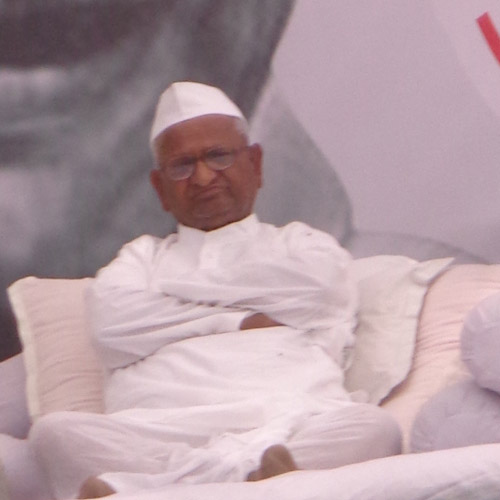 Anti-corruption activist Anna Hazare has lost 1.6 kg though his vital parameters were reported to be normal on the third day of his indefinite hunger strike, an aide said here on Thursday.
Hazare was cheerful and interacted with many people from different walks of life, including activist Medha Patkar and Aam Aadmi Party (AAP) leader Kumar Vishwas who came to express support to the agitation.
Braving the chilly weather sweeping the region in the past few days, the 76-year-old former army driver Hazare launched an indefinite hunger strike on Tuesday outside the Yadavbaba Temple in his native village in Ahmednagar district.
Hazare is demanding the passage of the Jan Lokpal Bill by parliament in the ongoing winter session.
Interacting with media persons, Patkar accused the union government of remaining "totally indifferent" to the issue of corruption and other issues concerning the common man.
She said that if the government had passed the Jan Lokpal Bill after the previous agitation by Hazare, "the party would not have faced the humiliation in the recent assembly elections".
Meanwhile, AAP chief Arvind Kejriwal, who was scheduled to arrive here on Thursday, cancelled his visit at the last minute due to ill health.
A large media contingent gathered at Ralegan-Siddhi on Thursday, but had to return disappointed as Kejriwal postponed his trip by a few days till his health becomes normal.
However, he sent his party functionaries, including Kumar Vishwas who met Hazare and extended AAP's support to the agitation.
Another group calling itself "Team Anna" on Thursday materialised in Ralegan-Siddhi and criticised the AAP and also expressed its views on other issues pertaining to the Jan Lokpal Bill.
Meanwhile, former IPS officer Kiran Bedi, who met Hazare on Wednesday, is expected to sit on a fast in Ralegan-Siddhi from Saturday.