Protests outside the residence of Sushil Kumar Shinde, Congress president Sonia Gandhi and AllMS.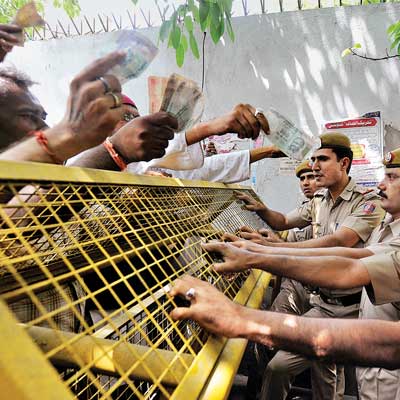 The National Capital woke up to protest once again on Saturday, after last December's outrage over the gangrape of a 23-year-old. This time, it was specifically the Delhi police that was the target of public anger, with hundreds who showed up outside the Capital's police headquarters voicing their protest against police inaction and callousness when it came to gender crimes.
Women outfits, Aam Admi Party, student parties and NGOs gathered at the Delhi Police Headquarters near ITO in Central Delhi, demanding strict action against the policemen for their insensitive behaviour in dealing with the case. Kavita Krishnan of the All India Progressive Women's Association said the question was one of accountability. "The slapping of the woman protester is not an aberration, this had happened last year too during the December protest when a girl had been assaulted inside the Parliament street police station ... We want his arrest ...."
Home Minister Sushil Kumar Shinde hinted that there would be a shake up in the topmost hierarchy of the Delhi Police. He said, "An inquiry into the conduct of the accused policemen is on.
There would be action against whoever is guilty".
At the Delhi Police Headquarters, the protesters clashed with the police personnel when they tried to break the barricades and enter into the premises. There were protests outside the residence of Sushil Kumar Shinde, Congress President Sonia Gandhi and at the All India Institute of Medical Sciences, where the girl is undergoing treatment.
A placard in a JNU student's hand which raised questions over Congress vice president Rahul Gandhi silence over the shameful incident read 'Youth are here, Where is Rahul Gandhi?".
Protestors waved currency notes at the policemen expressing anger over the allegation made by the victim's father that he had been offered a sum of Rs 2000 to keep quiet.