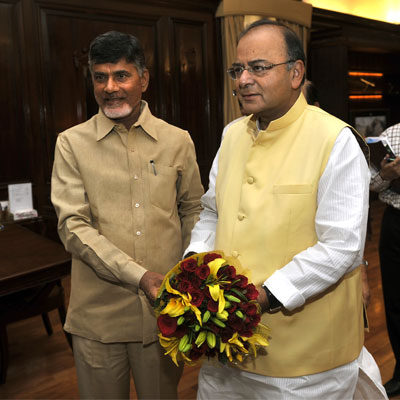 Andhra Pradesh Chief Minister N Chandrababu Naidu has kept portfolios of Energy, Infrastructure, Industries and Commerce and Tourism among others with himself while allocating berths to Ministers today.
Two Deputy Chief Ministers K E Krishnamurthy and N Chinna Rajappa were given the portfolios of Revenue and Home, respectively.
Former Assembly Speaker Yanamala Ramakrishnudu got Finance and Planning, Commercial Taxes and Legislative Affairs.
Ayyanna Patrudu was allocated Panchayat Raj and Rural Water Supply.
Two BJP MLAs – Kamineni Srinivas and P Manikyala Rao – were given Health and Medical Education, and Endowments, respectively.
Ganta Srinivasa Rao, who served as Minister in the erstwhile cabinet of N Kiran Kumar Reddy and returned to the TDP on the eve of the recent elections, has been given the portfolio of HRD (primary education, secondary education, higher and technical education).
In all, 19 ministers, including the two from TDP's ally BJP, were sworn in along with Naidu at a public function at Nagarjuna Nagar, 18 kms from Vijayawada, on June eight.
According to an official release following is the list of Ministers (with portfolios in brackets): N Chandrababu Naidu, Chief Minister (GAD, Law & Justice, Energy, Infrastructure,Investment, Industries & Commerce, Public Enterprises, Cinematography, Tourism and all other portfolios not allocated to Ministers); K E Krishnamurthy, Deputy Chief Minister (Revenue, Stamps & Registration); N Chinna Rajappa, Deputy Chief Minister (Home, Disaster Management); Yanamala Ramakrishnudu (Finance & Planning, Commercial Taxes, Legislative Affairs)