As the Lok Sabha elections concluded, India got its new Prime Minister designate Narendra Modi. Markets went berserk and the Sensex crossed the 25,000 points on assurances that Modi would take over as the Prime Minister. Amul, which celebrates all major events with its posters, came out with a cheerful and celebratory poster on the occasion.
The poster features a rather jubiliant Amul girl taking a selfie with India's PM designate Narendra Modi who is flashing the famous victory sign. He had flashed the symbol right after the poll results were out.
The caption of the poster reads, 'Ab ki Bar, Bhajap sarkar' in tune with Modi's campaign tag, 'Abki baar, Modi sarkar'. The literal meaning of the poster being that India has accepted BJP's government this time around.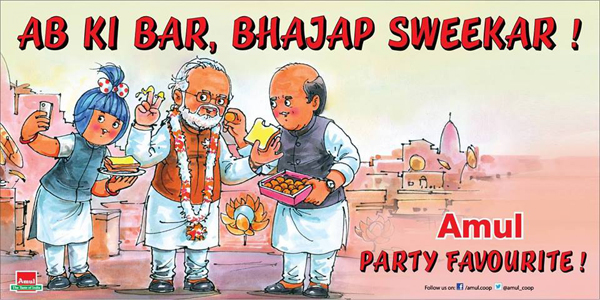 The poster has Modi's aide and BJP president Rajnath Singh feeding Ladoos (Indian sweets) to the leader. Apparently BJP workers and volunteers were upbeat about BJP's performance in Lok Sabha elections and had ordered 2.5 tonnes of sweets to celebrate the grand occasion. It also features the BJP symbol—Lotus and the backdrop is of a holy city presumably Varanasi. This was Modi's seat for contesting Lok Sabha elections apart from Vadodara in Gujarat.
Below is the post by Rajnath Singh on his Facebook page:
Post by Rajnath Singh.
Full marks to Amul and Rahul DaCunha for imbibing all the visual elements that saw Modi's meteoric rise in these elections. Prior to this, the Amul team have been making posters around political events in India. To know the creative process and how the team works in tandem to create these amazing posters, read more here.
Besides this, Twitter had released data about Narendra Modi had taken the platform by storm with his tweets topping the most RT'ed tweets from India beating Sachin Tendulkar's record.
Read the full report here: How Narendra Modi utilised Twitter and reached out to global leaders; Here are some interesting facts from #TwitterElections 2014
Festive mood at #BJP headquarters in #Delhi. 2.5 ton sweets being prepared to celebrate the expected win. pic.twitter.com/EogW1ak5F2

— Baba Umar (@BabaUmarr) May 15, 2014