After India suffered a massive defeat at the hands of Sri Lanka in the ICC World Twenty20 finals on Sunday evening, Indian cricketer Yuvraj Singh's house in the Manimajra locality of Chandigarh was pelted with stones.
In tradition with creating posters over important issues, Amul released a poster on social media platforms that said, "Where's the Yu, Vi used to know".
Of lately, Yuvraj Singh's performance has been bad as witnessed in the recent series against England, Australia and West Indies in recent series.
His performance has been pegged to be sub-par with his earlier self in the series.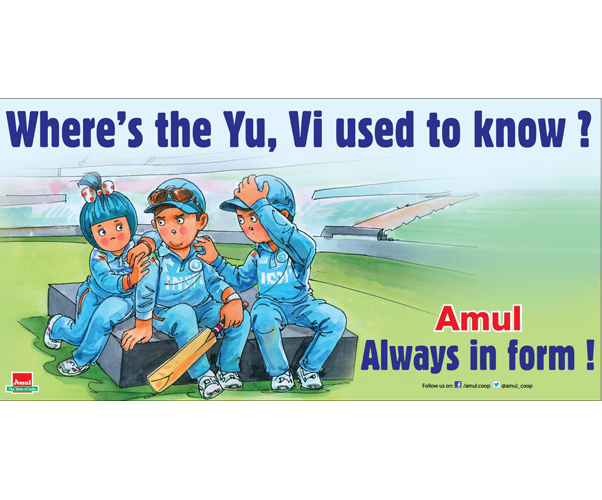 The caption of the advertisment reads, "Always in form': a term that was used for Yuvraj Singh when he would play and make the team win matches.
Yuvraj scored a painfully slow 11 off 21 balls, which drastically reduced the pace of the Indian innings towards the end. Sri Lanka went on to win the match by 6 wickets with over 2 overs to spare.
After going through cancer, Yuvraj made a come-back to cricket but could not reach his earlier pinnacle of success.
Irate fans have attacked houses of Mahendra Singh Dhoni and Mohammed Kaif prior to this.
Meanwhile, fans on Twitter lauded Yuvi for coming out strong post his health treatment stint and have been criticising others for being insensitive to his ordeal.
Below are the tweets:
How can people be so gross? Yuvi made us win the world cup when he was fighting cancer! This is insane! Always with you, @YUVSTRONG12 !

— Karan Shah (@FcbShah) April 8, 2014
The fact that Yuvraj Singh is getting death threats after losing a match is disgusting. He battled cancer & still came back to play. Respect

— Hibah (@HibahAqsa) April 8, 2014
Fighting disease cancer, TB not so easy n to make comeback. Saw such time in my life. Those who face it can feel pain. Respect @YUVSTRONG12

— KamaaI R Khan - KRK (@SirKRK) April 7, 2014
He rose from Cancer & made his mark @YUVSTRONG12 & is still playing first reach his heights then criticize his game or his faults

— Shereen Pathak (@shivanginipatha) April 7, 2014
The morons attacking @YUVSTRONG12 house do not know what it takes to go thru cancer, chemo, come out of it and play cricket again. #Strength

— sriram (@rsrirams) April 7, 2014
Shame on all of us if even a single stone's been thrown @YUVSTRONG12 home. This man fought to win the 2011WC with cancer eating him away.

— Faisal Shariff (@faisalshariff) April 7, 2014
Stop criticizing Yuvraj Singh..Not to forget,he bought us home the last world cup and has just recovered from cancer..Give him some time. :)

— KANWAR DHILLON (@_kanwardhillon) April 6, 2014
Someone on my TL wishing @YUVSTRONG12 shud hav never recovered from cancer. What a pathetic human being. How low can humanity go? #JesysWept

— Rishi (@GoonerSingh) April 6, 2014