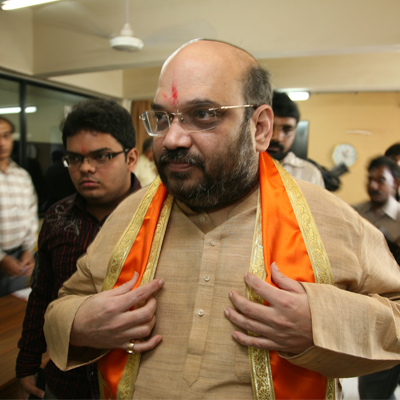 In a bid to spite the Election Commisson for its alleged bias and partiality, BJP leader Amit Shah once again brought up BJP's demand calling for the removal of Varanasi's District Collector at a press conference in Varanasi. This came close on heels of Election Commission refusing Narendra Modi to hold rallies in Varanasi.
Although permission for Modi to hold the rally was eventually given, Modi claimed that it was too late and in a Varanasi rally apologised, rather dramatically to 'Maa Ganga' for being unable to pray to her. The permission which was denied for reasons cited as crowding and threats to security, was not enough for the BJP who called out the Election commission for being a 'mute spectator'. They further went on to cricticise the partisan role of the Returning Officer for enying Modi permission to hold his rally in the highly crowded Veeniya Bagh area.
Major BJP leader Arun Jaitley demanded the immediate removal of Returning Officer Pranjal Yadav and threatened to hold protsts outside the Banaras Hindu University as well as the Election Commission in Delhi.
As BJP protestors rallied outside the BHU and also Election Commission in Delhi, water cannons were deployed near the latter while mass chaos was observed in the former.
In an act referred to by Finance Minister Chidambaram as one of desperation, the BJP was also called out by Aam Aadmi Party leader Arvind Kejriwal who openly invited Modi for debate and also jabbed at him with tweets which cited how Modi's interests didn't lie with any form of worship but solely political agenda.
Here is EC's Permission to Modi ji for Ganga Arti. Then why doesn't he just go and perform arti? Why politicise it? pic.twitter.com/9HWNFKXyd0

— Arvind Kejriwal (@ArvindKejriwal) May 8, 2014
I invite Mr Modi for an open discussion on a public platform. Let Kashi people ask straight questions from both of us. Time place his choice

— Arvind Kejriwal (@ArvindKejriwal) May 8, 2014