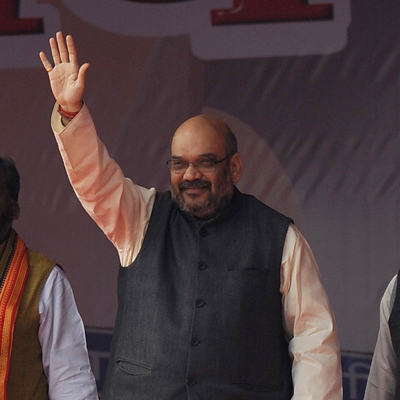 Bharatiya Janata Party (BJP) leader, Amit Shah, on Saturday said that the Congress president Sonia Gandhi and its vice-president Rahul Gandhi, must clarify on the alleged reports of the Congress candidate from Varanasi, Ajay Rai's name surfacing on his dealings in AK-47 rifles.
"I want to ask one question to the Congress, that some few days back a news channel from some secret sources had found that the Congress candidate from Varanasi Ajay Rai has been associated in dealing with AK-47 rifles. I demand that the central government should conduct an immediate probe to find out the truth," Shah said in a press conference in Lucknow.
The BJP leader also questioned the Congress of its inability to field a better candidate other than Ajay Rai with clean image to contest elections from Varanasi.
"Has the Congress reached such a stage that it doesn't even have a single person with clean image to contest from Varanasi? Even after all of this neither the Congress president nor the vice-president of the Congress are giving any reaction and therefore they must clear their stand," Shah added.
A private television channel has revealed that Ajay Rai, the Congress candidate fielded against BJP prime ministerial candidate Narendra Modi, has been accused of buying AK-47 rifles from underworld don Shahbuddin in Bihar.
This has been corroborated in a 82-page report sent in 2003 by the then Director General of Bihar Police DP Ojha to the then UP Home Secretary.