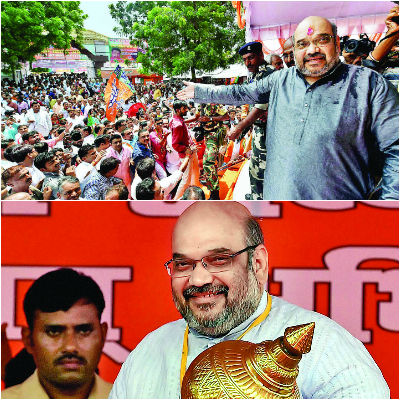 In his first visit to the country's largest state after being appointed BJP's president, Amit Shah on Tuesday motivated his party's cadre to ensure a BJP win in the 2017 state assembly elections. Shah said he would not settle for less than two-thirds majority in the state assembly.
Shah was the brain behind BJP's electoral strategy in the state for the 2014 general election, taking the party to a thumping majority and putting Narendra Modi firmly in the prime minister's chair. 'Chanakya' Shah was quick to acknowledge the state cadre's contribution in the victory.
"It is the victory in UP which paved the way for the BJP to form a government at the Centre on its own. You must understand that the road to Delhi starts here," he said in a 45-minute speech that drew wide applause and enthusiastic cheers throughout. "Forming a BJP government in UP, the largest state of the country, is the top priority now. It is my responsibility to achieve this target. I will see to it that we get two-thirds majority, and the workers of BJP will make it happen like they did in the Lok Sabha election."
Well aware of the factionalism at BJP's heels in UP, Shah, in an astute manner, asked the cadre to set aside their differences. "We got 73 of the 80 Lok Sabha seats here because all of you put your personal differences behind and worked as one in the name of Modiji. We need a similar performance from our workers once again and no one can deny us a government in UP," he said.
Shah also used the stage to criticise the ruling Samajwadi Party, saying the worsening law and order situation showed that the Yadav clan was perhaps punishing the people for their support to the BJP. "Mulayam and Akhilesh don't have time to help the millions of flood-affected people," said Shah. "But they have all the time to spend with Amar Singh."
Singh met the SP leaders in Lucknow on Tuesday.
Shah also took care to mention senior party leader and one-time rebel Kalyan Singh, seated on the dais, in glowing terms. "Kalyan Singhji formed a majority government in UP and set an example of how a government should be run. The government did not last long due to certain circumstances (i.e. the Ayodhya demolition) but he is still remembered for his administrative capabilities."