On Day 1, Nobel laureate stresses on learning languages, arts & literature.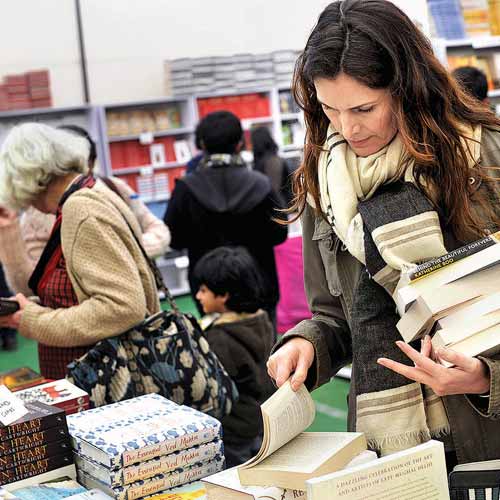 The Zee Jaipur Literature Festival kicked off with Nobel laureate Amartya Sen making seven wishes for a better India.
Notable among them were his desire to see a strong and flourishing right wing party that is secular and a clear-headed Left front that focuses on removing deprivation rather than nursing the antiquated agenda of fighting American imperialism.
In a subtle quip on India's recent entry into the "elite club" with the GSLV-DV launch, Sen hoped the country would march forward with universal health care and education.
But it was his first wish — a greater role for humanities and more stress on learning languages, arts and literature — that would have warmed the hearts of many writers and publishers present on Day 1 of the lit fest, perhaps the coldest Jaipur has ever witnessed.
Tagore may have lamented the lack of scientific temper in India in the past but Sen asserted that the need of the present is to give arts its due respect and not look down upon it as a choice of the under-performers.
It was apt, then, that the following session focussed on the endangered languages in India.
Linguist Ganesh Devy, former English professor in Baroda University, emphasised the role of the changing economy in obliterating languages.
In an election year, talks centered on democracy and governance are a given and there was plenty of that happening at the fest, even though some of the panelists refused to answer questions on contentious political issues.
Democracy Dialogues that expressly focussed on the electoral process had sociologist Dipankar Gupta talking about a new breed of elite — "citizen elite" — that thinks and acts for the common good of society even if it means going against the majoritarian view. Gupta underlined the fact that democracy will become drab if it restricts itself to collecting votes on old promises; it needs new dreams, a Utopian ideal.
Despite a lot of talk about the elite, the aam aadmi remained the flavour in Jaipur. Sen sought more clarity on the term. Who is the aam aadmi? Is it someone who needs subsidised LPG, fertilizers and electricity or someone who has no access to drinking water, power and health care?
Earlier in the day, Zee CEO Bhaskar Das announced the Zee Young Authors award in his inaugural speech.