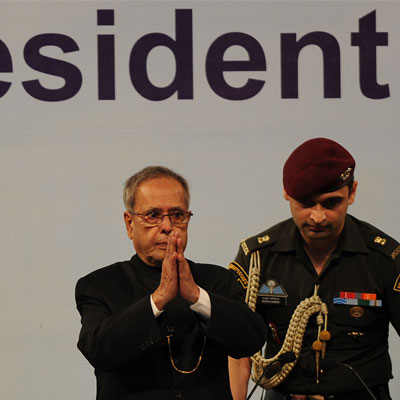 "All top universities of the world, be it Wharton, Columbia or Harward, are built on contributions by their alumni. The time has come for every alumnus to contribute to his/her alma mater as education cannot survive on just government grants," said president Pranab Mukherjee, urging all distinguished alumni of Indian universities to give back to their alma mater to help improve the quality of education in the country.
Speaking at the diamond jubilee celebration of KC college in Churchgate, Mukherjee, citing examples from world over, presented before an attentive audience of teachers, students and alumni of the institute the need for India to recover the lost glory in education.
"We have to recover on lost ground. Let us bring back the glory which was lost in the 12th century after dominating the scene of higher education for seven centuries. I feel very sad to know that not a single university (in India) figures in the top 200 universities in the world," he said.
Echoing the president's sentiments was chief minister Prithviraj Chavan, who said there was a need for healthy competition from private players and philanthropists to uplift the quality of education in the country. "It is time to make a blueprint for the next 60 years. We are not rich in natural resources, but we are in human resources. However, what the human resources do will depend on the kind of education we give our children. We spend maximum money on education but we need private and philanthropic support," said Chavan.
The institute, at the celebration titled KC@60, felicitated its distinguished alumni on the occasion. Among those was industrialist Anil Ambani.
Mukherjee, who also attended a function at the National Sports Club of India, Worli, on Saturday to commemorate 150th anniversary of the Advocates Association of Western India spoke about the judiciary in the country.
"Our judiciary is weak in dispensing justice. Backlog is a disturbing and staggering 31 million (cases)..." he said.
Stressing on the proverbial saying "justice delayed is justice denied", Mukherjee urged lawyers not to seek unnecessary adjournments. "Delays increase cost of litigation which makes justice a distant mirage," he said, adding the strength of judiciary depends on two pillars "quality and speed".
Chief justice of Bombay high court Mohit Shah and the chief minister, who were present, stressed on the steps taken to ensure speedy disposal of cases involving offences against women, senior citizens and cases under Prevention of Corruption Act.