Also called the festival of prosperity and positivity, Makar Sankaranti heralds the beginning of an auspicious start to the new year. Rising amidst foggy and dark clouds, the sun serenades the autumn as the festive spirit bowls down everyone.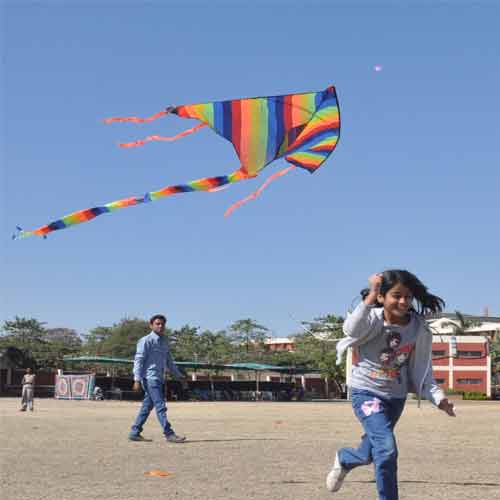 Makar Sankaranti also called the festival of prosperity and positivity heralds the beginning of an auspicious start to the new year. Rising amidst foggy and dark clouds, the sun serenades the autumn as the festive spirit bowls down everyone.
The festival is celebrated with pomp and glory across different Hindu communities. It is a major Hindu festival which is a pre-cursor of the harvest season and thereby prosperity.
During Sankranti, different communities celebrate it in traditional ritualistic ways. In Maharashtra, women usually wear black saris and ornamental jewellery while exchanging 'Til Gul'. The message is loud and clear, Til Gul ghya, god-god bola which literally is a message to talk good and positive stuff.
In Tamil Nadu, the festival is celebrated as Pongal where people cook sweet rice and other delicacies and shout, 'Pongal'.
Whereas, in Punjab, it is called 'Lohri' where music, dance and prayers take the center-stage with fervour and dedication.
Karnataka does away with the prefix and calls the festival 'Sankranti' or 'Shankranti'. The festival is celebrated joyously by sharing sweets and neem-leave-jaggery mixture powdered together. This is exchanged among family and friends to mark the auspicious beginning of the year.
Makar Sankranti is the day that marks the transition of the Sun into Makara rashi (Capricorn) on its celestial path. The day is also believed to mark the arrival of spring in India and is a major harvest festival.
Makara Sankranti is a solar event making it perhaps the only Indian festival whose date always falls on the same date on Gregorian calendar every year on January 14, with some exceptions, when the festival is celebrated on January 13 or January 15.
Kite flying is another aspect of the festival that marks the beginning of a new year. The message intended is, "Rise higher like the kite'. But, there are many injuries due to kite-flying as birds get entangled in the plastic Maanja. So, the everyone should restrict kite-flying and be sensitive towards the avian species.
As bulls signify the harvest season, they are treated with respect and decorated with garlands and prayed to. Major cattle fairs are held at different places where many camels, bullocks and horses are sold and purchased by animal lovers.
Fairs, donating to the poor and kite-flying while exchanging sweets are some of the highlights of Makar Sankranti.
This festival goes on for ten days.with feasting, boat races, songs and dance being major part of the festival.
With drum-rolls, sweets and a positive outlook towards life, Makar Sankaranti is a festival that is celebrated with zest across the country.
Til Gul Ghyaa, god god bola. dna wishes all its readers a happy Makar Sankaranti!
Below are the guide-lines that you can follow during festivities.
-Do not over shout during kite wars; take care of your throat.
-Refrain from eating oily food.
-Wear sunglasses, sweater, muffler etc. if it is cold.
-Do not take risk in catching kites
-Do not cross-terrace borders/galleries border to collect kites
-Do not try to collect kite from electric poles.
-Keep drinking water and eat fruits whenever needed. Don't quit food.
-Drive slowly as kids are usually lampooning across the streets in festive glory.
-Pay attention to your kids; do not allow them to move out of your notice.
-Take care of flying birds, try not to fly kite around their flying side, your kite thread can kill them immediately.
-In case of birds' causality, contact the vets immediately.
There are many NGOs offering immediate treatments to injured birds. Contact them in case of emergencies.
-PETA
Read more: Bird injuries fall, but NGOs still scared of maanja