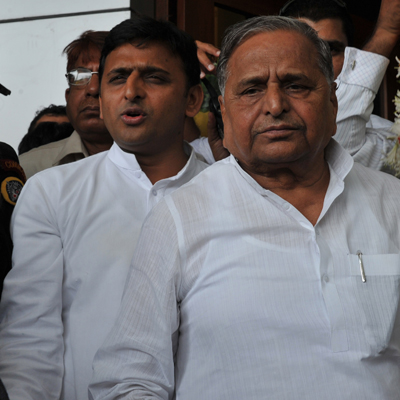 After drawing ire for his caustic remarks on rape culture prevalent in Uttar Pradesh, Akhilesh Yadav has tried defending his party's stand on the Badaun gang-rape case by blaming the opposition Bahujan Samaj Party (BSP). According to a report carried by a leading newspaper, Akhilesh Yadav blamed Mayawati and BSP coterie for influencing the family's decision to refuse State's compensation.
Akhilesh has tried deflecting the entire blame-game and criticism that SP is drawing from National and international quarters by blaming BSP of buying out the victims families
"We have phone records of a BSP MLA. He spoke to the families the minute he left Lucknow for Badaun and even directed them on what to say to the media. The BSP asked them to return the compensation offered by the state. They took money from the BSP but not from the state," Yadav told the newspaper.
Earlier, brother of one of the Badaun girls had told the newspaper, "We want justice. I don't want to be obliged to Yadav by taking money from the state government. I am not under the influence of any party, including the BSP."
Read: BJP protests against #Badaun gang-rape, says Centre will intervene if reports are sent by UP governor
To top it all, the family has admittedly decided to leave the state fearing backlash and attacks from powerful entities that have been protected by political bigwigs.
Akhilesh Yadav has also accused the media of highlighting cases occurring in UP while ignoring those in other states.
The chief minister facing flak over the shocking incident has claimed that his government has taken actions against this or any other incidents. "Badaun or any other incidents in the state, the government has taken stern action on them. In Badaun whatever steps the government could take, it took. Decision on CBI inquiry has also been taken. Wherever incident took place in the state, action has been taken," Akhilesh told reporters after a cabinet meeting.
"I have said this several times that incidents of the state are publicised more. Such incidents do not happen in UP alone," he added. Akhilesh said, "An incident happened in Bangalore, was it shown on national channels? Incidents are taking place in Madhya Pradesh. I have got information that chain of a member of a big minister was snatched near her home. Rajasthan is before you. Only UP is visible and this is more visible to cunning people."
Read: BJP protests against #Badaun gang-rape, says Centre will intervene if reports are sent by UP governor
Launching a counter attack on BJP agitating on the issue of power crisis, Akhilesh said the rival party has government at the Centre, but it was neither giving UP power of its full quota nor was it providing coal to operate plants. "These BJP people are cunning and recently sat on dharna," he alleged adding "Their people met me and I accepted their proposal. They said about system improvement, I accepted. I told them ask the Centre to increase our quota and provide coal. Taking to the streets and staging a demonstration has no meaning.
Akhilesh claimed the government has continuously taken steps in the power sector. "When they have got such a landslide victory and the Prime Minister is from here then give us power for one year on credit. We will return in 2016. The government has done a number of MoUs for power so that new plants can be set up and this crisis can end," he said.
On a question of asking assistance from the Centre, he said, "We will only ask what which UP should get. Work of Gorakhpur-Varanasi and Kanpur-Hamirpur roads which is the responsibility of National Highway Authority of India has not started yet." On being asked about clash between SP men during a review meeting held at district headquarters, Akhilesh said he would collect information on it.
Among the prominent politicians who visited Badaun were BSP chief Mayawati, Congress vice-president Rahul Gandhi, LJP chief Ram Vilas Paswan and former Lok Sabha Speaker Meira Kumar of the Congress.
Yadav also accused the BJP of targeting the ruling Samajwadi Party, saying this was because the SP was the only party with some standing in UP.
Also read: We don't want money. We want justice: Family of #Badaun gang-rape victims
Read: Badaun rape and murder: Superintendent of Police suspended, 66 IAS, 42 IPS officers transferred