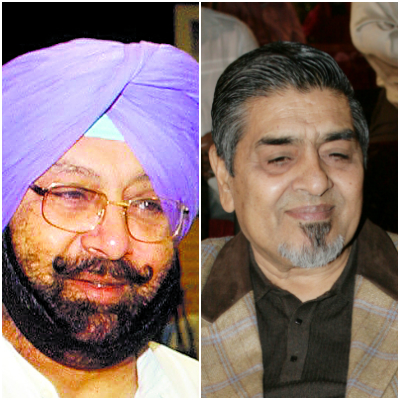 Amritsar's Congress candidate, Captain Amarinder Singh seems to be lurking in a deep pool of water, as his alleged comments on the 1984 anti-Sikh riots have angered many Shiromani Akali Dal supporters (SAD). Singh, the former chief minister of Punjab, said in a recent interview that he believed Jagdish Tytler was innocent and the Supreme Court confirming him not guilty, was only a conformation of the same.
The supporters of the NDA alliance unit gathered outside the Congress office on Monday morning. They shouted anti-Congress slogans and carried placards. Water guns were also used to restrict the angry mob from crossing over barricades.
Amarinder Singh, in an interview to a leading news channel, had earlier said that Jagdish Tytler, one of the primary accused in the 1984 anti-Sikh riots was not guilty. Shashi Tharoor had also voiced his opinions and supported Singh. However the Sikh community, or Akali Dal in particular seems to have taken offense. The 1984 anti- Sikh riots that broke out after India's Prime Minister, Indira Gandhi's assassination has been a rather sensitive topic for the Sikh community and the country as a whole. Previously,Jernail Singh, the AAP candidate and former journalist had hurled a shoe at Congressman P Chidambaram, in protests to his remarks on CBI's closure of the riots investigations.
Jagdish Tytler, a former Congress MP, was held as the key accused in the anti-Sikh riots. In 2005, he submitted his resignation from the Union Council of Ministers. In the year 2007, the CBI closed all cases against Tytler and gave him a clean chit. However soon afterwards, a Delhi court demanded the case be re-opened. In 2009, the CBI filed its final report on the 1984 riots and deemed Tytler not guilty. However the BJP accused Congress of faltering with the CBI and hampering the decision. Jagdish Tytler, scheduled to contest from his constituency in Delhi for the 2014 Lok Sabha elections, withdrew from the polls, after heated discussions with senior party members.
As the capital scathes under the protests, Arun Jaitley, the BJP candidate from Amritsar and Singh's arch rival this elections, said "Is he trying to prejudge the guilt of a person who is perceived to be involved in the riots? Is his personal and political relationship more important to Amarinder than the interest of the victims?"