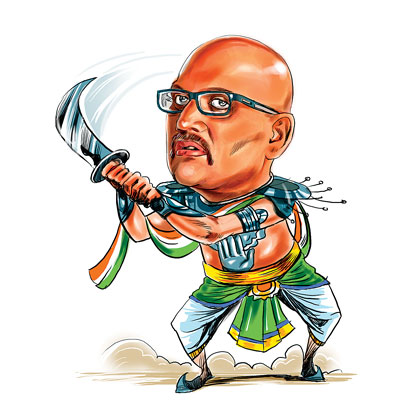 When the Congress's undeclared PM-hopeful Rahul Gandhi lands in Varanasi on Saturday for a road show in support of party nominee Ajay Rai, it would mark a move that militates against all the high-sounding homilies that the Gandhi scion has been delivering in his campaign across the country about smut-free politics. It would also be a big taint on the image of "Mr Clean" he has apparently inherited from his late father. For, Rahul would be campaigning for a character who is much feared in east UP and known more as a mafia don and gangster rather than a political leader.
Political analysts were, in fact, aghast when Ajay Rai's name was announced as the Congress nominee against the BJP's PM-in-waiting Narendra Modi in Varanasi. The contrast was perhaps even more stark due to Aam Aadmi Party's Arvind Kejriwal, carrying a holier-than-thou halo, being in the eyeball-grabbing electoral contest. It was also rather ironical that the choice was made by none else but Priyanka Gandhi Vadra herself (which is what Ajay Rai himself told the media).
In police dossiers, Ajay Rai still finds mention as a member of the gang of mafia dons Brijesh Singh and Tribhuvan Singh since 1989. He has an impressive list of criminal charges against him, including heinous ones like attempt to murder, extortion, rioting, and cases under the Gangster Act.
If that were not dire enough, Rai has gone ahead and joined hands with another much-feared gangster of east UP Mukhtar Ansari in a rather mindless bid to boost his electoral prospects among the Ansari weavers of Varanasi who form the decisive votebank here. Mindless because Ansari is known to have scripted the murder of Ajay Rai's own elder brother Awadhesh Rai as well as his brother in law and once his mentor in the crime world, Krishnanand Rai, a BJP legislator.
Ajay Rai is facing a backlash within his community for this unusual alliance. Krishnanand Rai's widow Alka Rai has been campaigning among the Bhumihars (a sizeable 1.5 lakh in Varanasi) telling them not to vote for the "traitor". A senior journalist in Varanasi told dna the Congress may not get the Bhumihar votes which Ajay Rai has "taken for granted".
The Congress nominee is also facing a credibility crisis due to his strong BJP grounding. Rai began his political career as a BJP students' wing member and won the Kolsala Assembly seat in Varanasi three times in a row between 1996 and 2007 for the BJP.
Denied the BJP ticket in 2009, he contested the Lok Sabha election as an SP candidate and is known to have transferred his votes to the BJP veteran Murli Manohar Joshi just before the election as it became clear that BSP nominee Mukhtar Ansari would get a windfall of Muslim votes. Joshi just managed to scrape through with Rai's help.
"Voting for Ajay Rai would be like voting indirectly for the BJP. He might do the same thing this time as the contest is now between Modi and Kejriwal, who is getting all the Muslim support," says Mohd Ishaque, a Varanasi-based Urdu daily editor, perhaps amplifying the sentiment in the town known equally for its Vishwanath temple as well as the Gyanvapi mosque.
For his part, Ajay Rai has been frantically playing up the "local" card against "outsiders" Modi and Kejriwal. But that doesn't seem to be working out for him, not in this election at least.