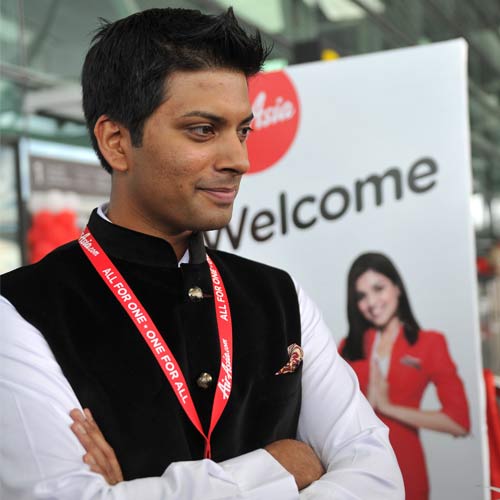 The country's fourth budget carrier AirAsia India, Indian arm of Malaysian low-cost carrier AirAsia Berhad, finally commenced operations today with its first flight taking off from Bangalore's Kempegowda International Airport for Goa. "In Goa. Wow we did it," parent AirAsia group chief Tony Fernandes tweeted immediately after the touchdown.
The flight, which took off at 3.44 PM, was operated by a former IndiGo pilot Capt Manish Uppal, with Diganta, a former pilot of Kingfisher Airlines, as the first officer.
Mittu Chandilya, CEO, AirAsia India, said, "We are very proud that after a year's persistence we have finally commenced our operations. This is a big day for all of us." He further said that Bengaluru, Goa and Chennai are the most lucrative options keeping in mind low-cost business model and the traffic for the season.
AirAsia India will be operating twice-a-day flight on the Bangalore-Chennai-Bangalore route from June 19, besides a daily flight between Bangalore and Goa effective from today.
IndiGo and other domestic carriers under the umbrella organisation Federation of Indian Airlines have moved the Delhi High Court against grant of AOP to Air Asia. Apparently with this in mind, Fernandes tweeted, "How ironic Captain Manish formerly of Indigo commanding our first flight..." AirAsia India has launched its services more than 15 months after it announced a 49:30:21 partnership with Tata group and Arun Bhatia's Telestra TradePlace to set up a budget carrier in the country in February 2013.
AirAsia India will focus on connecting tier-II cities to begin with, according to airline sources. Fares will be about 35 per cent lower than the current market rates, Chandilya had earlier said. The other budget carrier in the country are IndiGo, SpiceJet and GoAir. Naresh-Goyal promoted full service airline Jet Airways also operates a low-cost service JetLite.
IndiGo dominates the local market with 31.6 per cent share, followed by Jet Airways-JetLite combine with 21.8 per cent and Air India with 18.3 per cent, according to Directorate General of Civil Aviation data for April.
SpiceJet had a 17.9 per cent market share in April this year and GoAir had 9.5 per cent. AirAsia India plans to have a fleet of 10 aircraft, drawn from A-320 family, within a year.