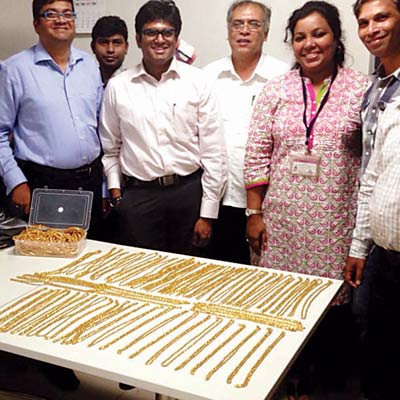 In arguably the biggest seizure so far at city airport in a single day, the Air Intelligence Unit (AIU) of airport customs seized a total of 18kg gold, valued over Rs5 crore, in four different cases on Tuesday. In two cases, gold bars were found in the toilets of two Jet Airways flights from Dubai.
With this, the total value and quantity of gold seized at city airport this year has gone up to around Rs83 crore and 32kg.
According to AIU officials, three kilogrammes each of gold bars were recovered from the toilets of aircraft 9W 537 and 9W 543. The value of each consignment is said to be over Rs82 lakh. AIU officials suspect the gold was meant to be picked up by a passenger who would have continued on the flight to a domestic destination. Both the flights were meant to go ahead till Udaipur and Hyderabad.
"The gold was hidden in a cavity behind the mirror in the toilets" said deputy commissioner (AIU) Kiran Kumar.
In one of the other cases detected the same night, Vinay Kumar Balkishan, a passenger on an Air India flight (Dubai-Mumbai), was found to be carrying over Rs1.92 crore worth of gold ornaments. "The passenger was apprehended after he entered the international transit lounge. He tried to hoodwink the AI staff, saying he's a domestic flyer, and showed a Mumbai-Ahmedabad ticket, to evade the various checks for international passengers. While arguing with the AI staff, CISF officials caught hold of him and handed him over to the customs for checking," said Kumar.
In the fourth case, seven Mauritius nationals were held after being found with 37 crude bangles and five gold kadas, with total worth over Rs1.36 crore. The accused were searched and apprehended after AIU officials found their behaviour fishy. The accused had arrived from Bangkok in a Thai Airways flight. Officials are investigating further in all the cases.