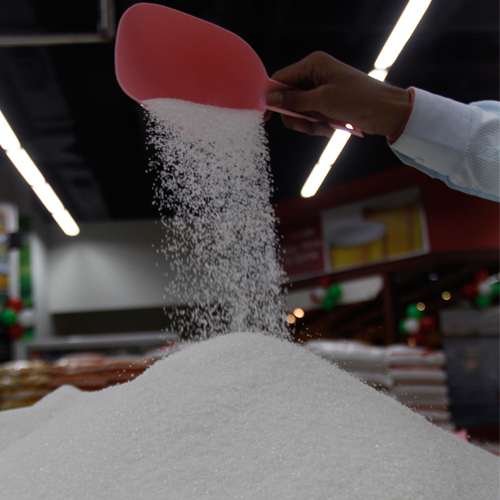 Sugar prices are now likely to skyrocket as the central government has raised the import duty on the product from the existing 15% to 40%, according to Union Food and Civil Supplies minister Minister Ram Vilas Paswan. "Government to hike import duty on sugar to 40% from the current 15%," he said. "Government to provide additional interest-free loan of Rs 4,400 crore to cash-starved sugar mills to make payments to cane farmers"
The government will also extend sugar export subsidy of Rs 3,300 per tonne till September this year, he said.
Government to hike import duty on sugar; prices may go up, informs Food Minister Ram Vilas Paswan
At a high-level meeting convened by Food Minister Ram Vilas Paswan, it was decided that the import duty will be raised to 40 per cent from 15 per cent. It was also decided that the export subsidy will be extended till September this year to give relief to the sugar industry, which owes Rs 11,000 crore to cane growers largely in Uttar Pradesh. Efforts will be made to implement mandatory 5 per cent ethanol blending with petrol and subsequently achieve 10 per cent blending. The meeting held at the instance of Prime Minister Narendra Modi's direction was attended among others by Transport Minister Nitin Gadkari, Commerce Minister Nirmala Sitharaman, Principal Secretary to the PM Nripendra Misra and Cabinet Secretary Ajit Seth. "We have taken four key decisions. We have decided to extend the interest-free loan given against excise duty paid by sugar mills for five years instead of three years," Paswan told reporters after the meeting. Read more
Industry Body Indian Sugar Mills Association (ISMA) hailed the decision saying this will improve cash-flow of millers and help clear cane arrears. "There is a need to improve the sugar prices to allow mills to at least cover their cost of producing sugar," ISMA Director General Avinash Verma said in a statement. Sugar stocks registered a sharp increase following the government's decision. Verma said that a 40 per cent duty on imports would ensure that sugar from abroad does not flood the market, which is already surplus with 20-25 lakh tonnes. "This would definitely improve the market sentiments, domestic sugar prices and better buying by the traders and wholesalers," he said. He said today's decision could result in a rise in sugar prices by Rs 1-2 per kg in the wholesale market from the current range between Rs 28 and 31 per kg. Paswan said mills can avail additional interest-free loans of up to Rs 4,400 crore from banks, he said, adding this will improve their cash flow to make cane payments. However, the minister said the department is yet to calculate the exact interest-free loans to be provided to the industry against excise-duty.
This news comes just weeks ahead of the Union Budget for 2014-15 that will be presented by Arun Jaitley on July 10. The budget session of parliament is scheduled to conclude on Aug. 14, but it could be extended further, the sources said. India's previous government presented an interim budget for 2014/15 to parliament on Feb. 17, ahead of national elections to cover expenditure until a new administration was installed.
Also Read:
Food inflation is rising through roof, becoming Narendra Modi government's first big challenge
The first inflation figures released after the formation of the new government will for sure send jitters across economic ministries as it comes as a contrast from the claims finance secretary Arvind Mayaram made just two days ago, that inflation would come down. May Wholesale Price Index has touched a five-month high at 6.01% compared with 5.3% last month. High Food prices, fuel and manufactured product prices have contributed to the rise in inflation. Read more
Can't expect wonders in 15 days: Venkaiah Naidu on price rise
Venkaiah Naidu asserted today that people who are talking about price rise etc can't expect wonders in 15 days. The Parliamentary Affairs minister also came to Prime Minister Narendra Modi's defence on criticism over his first speech in parliament. He shot back at criticism that the PM's speech was rhetorical, saying that the speech was a broad statement of intent. Read more
Bringing down food prices topmost agenda of Narendra Modi government
Curtailing food inflation will be Prime Minister Narendra Modi's top priority as his government pursues broad economic reforms focused on job creation, reviving growth, encouraging FDI and introducing a non- adversarial tax regime. Unveiling the Modi government's agenda for governance, President Pranab Mukherjee in an address to the joint sitting of Parliament said it will take action against hoarding and black marketing and make all efforts to bring back black money stashed abroad. Read more
Oil Minister Dharmendra Pradhan proposes pro-poor approach on fuel, gas price hike
Hinting at pro-poor approach in dealing with rise in fuel and gas prices, new Oil Minister Dharmendra Pradhan said that he would consult Finance and Law ministries before taking a call on price hike. "That issue has many aspects, angles and questions. There are many departments associated with it. Law ministry and finance ministry are associated with it. We are analyzing the whole matter, we will talk to the top supporters in our government before we take the decision," he said. Read more