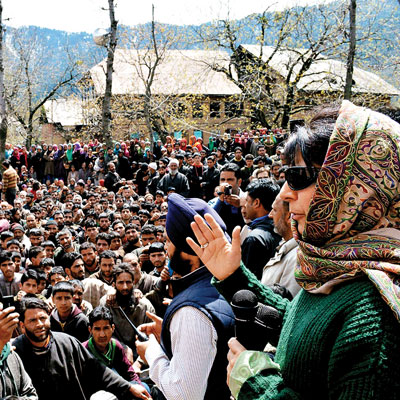 Afzal Guru's hanging has become a rallying point for political parties this election season to garner votes for their candidates in Jammu and Kashmir.
While ruling National Conference (NC) is trying to play martyr by claiming ignorance and blamed former home minister RK Singh for Guru's hanging, the Opposition People's Democratic Party (PDP) and separatists are going to town blaming NC for collaborating to send the Parliament attack convict to the gallows.
Guru's hanging is a sensitive issue in the Kashmir valley. People, across the ideological divide, have criticised the "out of turn," secret hanging of Guru on February 9, 2013. What has complicated the matter further is his secret burial and the subsequent denial of his mortal remains to his family.
Under pressure to explain the hanging, NC president and union minister for renewable energy Farooq Abdullah, seeking reelection from Srinagar Parliamentary constituency, tried to steer clear off the controversy by blaming former home secretary and BJP leader RK Singh for the execution.
"He (RK Singh) is responsible for Afzal Guru's hanging. He was then home secretary and has now joined the BJP. I and (Union health minister Ghulam Nabi) Azad complained to prime minister for not informing us about Guru's hanging," Farooq told reporters.
PDP, which is trying to cash in on Guru's issue to pin down the NC, lampooned Farooq for "lying" and offering a "laughable" explanation.
"Farooq Abdullah is lying when he says he had no knowledge of Guru's hanging. Farooq had said on February 24, 2012 that the Parliament attack convict Afzal Guru should pay the price for attacking India. Anyone who attacks India should pay the price for it," said PDP president Mehbooba Mufti.
Even Moderate Hurriyat Conference, led by Mirwaiz Umar Farooq, has lambasted Farooq for "feigning ignorance". "Farooq's statement shows how the Centre treats those who claim to be the representative of the people of Kashmir. Instead of thumping chests now, these leaders should have resigned in protest against the secret hanging," said a spokesman of Moderate Hurriyat.