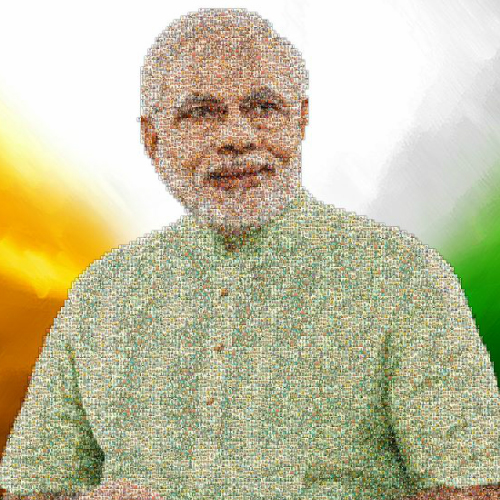 The Lok Sabha Elections 2014 have been popularly called the 'social media elections'. Living up to the reputation of a 'modern leader', the Bharatiya Janata Party's prime ministerial candidate Narendra Modi, is using Twitter and other social media as a platform to connect with the people of the country and promote himself and his party.
In the ongoing seventh phase of the lok sabha elections, the whole of Gujarat is going to vote, along with 6 other states and 2 union territories. Modi voted this morning in the Gandhinagar parliamentary constituency, from where senior party leader LK Advani is contesting. He took a selfie after casting his vote, showing off his inked finger and BJP's symbol lotus. Modi also tweeted his selfie with the hashtag #SelfieWithModi.
Selfie is in! Share yours using #SelfieWithModi & see what happens https://t.co/2s2BZ7GvuC pic.twitter.com/oDrCZztzo0

— Narendra Modi (@narendramodi) April 30, 2014
This new Twitter trend created by the Modi camp uses the selfies of voters who hashtag #SelfieWithModi along with their inked-finger photos, to make a mosaic of Narendra Modi. The website says, "In this selfie season share yours with #SelfieWithModi and become part of this mosaic". You can even find your selfie in the mosaic and locate your friends' who have shared theirs. "Together, lets become agents of change and lay the foundation of a strong and developed India" urges the website.
Oh Wow! Mosaic of your #SelfieWithModi check this out: https://t.co/kMyLbSljtw pic.twitter.com/7FLuQXGlbB

— India Policy (@India_Policy) April 30, 2014
Here are some of the selfies tweeted by Modi fans:
Voted for the guy who has performed and delivered in my state for over a decade now. #SelfieWithModi #Elections2014 pic.twitter.com/Vt07g0GESG

— Mandira Popat (@mpopat) April 30, 2014
Well I had to do a #SelfieWithModi too! But then this one has both @narendramodi & @ncbn ~ Dad, Mom, Wife & Me! pic.twitter.com/WXk6rxTuJU

— Venkat Parthasarathy (@Venkrek) April 30, 2014
Me and my Sis #SelfieWithModi pic.twitter.com/e94OAmDfFm

— नंदीता ठाकुर (@nanditathhakur) April 30, 2014
Voted for Development,Voted for Good Governance,Voted for @narendramodi #SelfieWithModi pic.twitter.com/7uMLqvC2DU

— RAKESH DESAI (@GujjuSir) April 30, 2014
#SelfieWithModi; voted early at 8 am; looking forward to see Mr Modi as PM, can't wait for May 16. pic.twitter.com/206Faf1ScL

— Pranav Joshi (@joshipranav11) April 30, 2014
voted in chandigarh on 10 april #SelfieWithModi #GetInked pic.twitter.com/o2KWLXlUwr

— Gaurav (@bhatiagaurav93) April 30, 2014
The race of lok sabha elections is witnessing neck-to-neck competition between the leaders and their parties to woo the voters, using all possible platforms available. Let's see who wins the race!