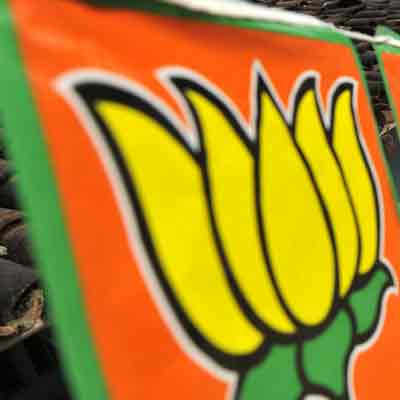 Hours after Sabir Ali asked BJP to put his membership on hold, the party has taken a drastic step of dropping him. This is the second major drop that BJP has witnessed in recent times.
Top BJP leadership decided to drop Ali after Naqvi started opposing his membership into the party folds.
The BJP was today forced to eat the humble pie for a second time in a week when controversial former JD(U) MP Sabir Ali asked the party to put his induction on hold following strong objections from within and the RSS.
"I have written a letter to Dharmendra Pradhan to keep my membership on hold," Ali, who was attacked by senior leader Mukhtar Naqvi as terrorist Yasin Bhatkal's friend that set off a storm over admitting him into the party yesterday, said.
The induction of Ali, who had hopped from LJP to RJD and to JD(U) from which he was expelled for his remarks praising Narendra Modi, provoked Naqvi to make a mocking statement whether Dawood Ibrahim would be the next entrant.
As more leaders including MP Balbir Punj backed Naqvi's objection, the RSS also joined the criticism, saying Ali's admission has caused great resentment.
"Sabir Ali's induction has caused great resentment. Party leadership has been apprised of d strong views of d cadre n people agnst it," RSS national spokesperson Ram Madhav tweeted today.
With the tide in the saffron family rising against him, Ali told reporters that he has asked the party general secretary to put his admission on hold but challenged his critics to prove the charge that he was linked to terrorists.
"I have also asked him to form a committee in this regard and enquire into my case on the basis of these allegations. If they find these allegations true even distantly, I will quit politics forever," he said.
Ali challenged Naqvi to prove the allegations, saying he has not even seen Bhaktal in his dreams, but came to know only through newspapers.
"I am asking if he has the guts to prove? If not he should quit politics. I am ready to do," he said.
This is the second instance of the BJP cutting a sorry face after it inducted a controversial right wing activist and Sri Ram Sene chief Pramod Muthalik by the Karnataka unit which threw him out within hours after strong criticism from both within and outside the party.
Muthalik's Sene activists were involved in attack on women in pubs in Mangalore a few years ago after which he was also jailed. Now he has taken a vow to avenge his humiliation at the hands of BJP in the current elections.
Expelled Janata Dal (United) leader Sabir Ali on Saturday wrote a letter to the Bharatiya Janata Party unit of Bihar asking them to put his membership on hold till party leader Mukhtar Abbas Naqvi's allegations on him are cleared.
"I have written a letter to Dharmendra Pradhan saying that they can set up a committee to enquire the allegations made against me. If they will be able to prove any charges I will quit politics and they can put my membership on hold until the charges are cleared," said Ali.
Mukhtar Abbas Naqvi opposed the induction of expelled Janata Dal-United (JD-U) leader Sabir Ali into the party on grounds that he has been named as one of the alleged accused in the murder of music mogul Gulshan Kumar and was a friend of Indian Mujahideen Chief Yasin Bhatkal.
Naqvi yesterday, directly attacking Ali, had tweeted "Terrorist Bhatakal friend join BJP, soon accepting Dawood".