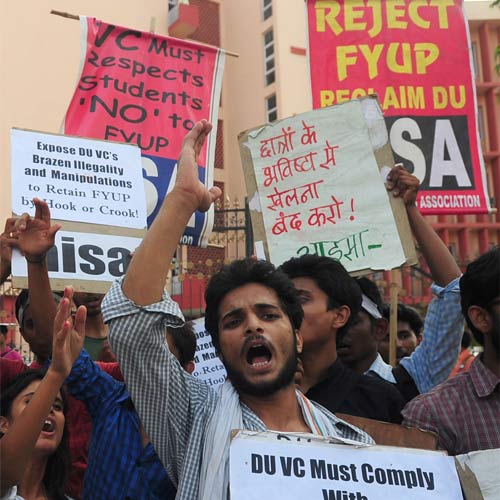 After virtually forcing Delhi University to discontinue with its four-year undergraduate programme, the Under Graduate Council (UGC) has asked three other institutions, including Institute of Science, Bangalore, to take off its Four Year Under-graduate Programme FYUP courses and follow its notification in this regard.
HRD Minister Smriti Irani told Lok Sabha on Wednesday Symbiosis International University, Pune, and Shiv Nadar University, Noida, besides IIS have informed that they are conducting four-year BA and BS programmes.
"The UGC has reported that these universities have been asked to discontinue such programmes and follow the UGC notification on specification of degrees," she said.
The UGC had also sought information regarding the conduct of FYUP from four other universities, OP Jindal University in Sonepat, BR Ambedkar University in Delhi, Ashoka University in Sonepat and Azim Premji University in Bangalore.
Delhi University (DU) was forced to scrap its controversial FYUP after the UGC, prompted by the HRD ministry, put its foot down against the course and warned the varsity of action if it carried on with it, opposed by unions representing students as well as teachers.