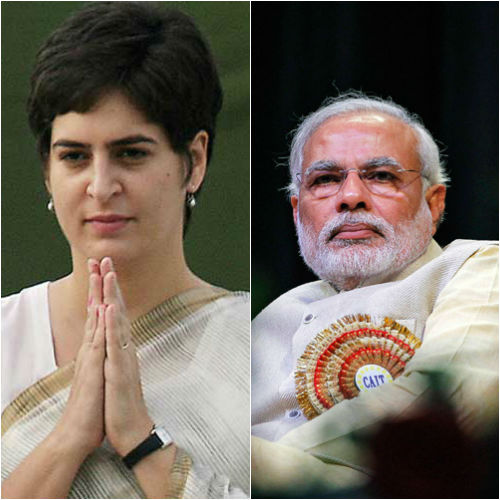 After a controversy erupted over Narendra Modi calling Priyanka Gandhi as his daughter in a television interview with Doordarshan, Modi's office came to his defence by releasing the entire interview. According to reports, Modi did not make the 'daughter' statement about Priyanka Gandhi. But, in a turn-around of sorts, he spoke about Congress leader Ahmed Patel as a dear friend in the interview.
Doordarshan was hit by a controversy for allegedly editing out portions of Bharatiya Janata Party Prime Ministerial candidate Narendra Modi's interview on Thursday.
In the interview, BJP'S prime ministerial candidate Narendra Modi is seen saying that he will not be angry even if Congress President Sonia Gandhi's daughter Priyanka Gandhi hurls a hundred curses at him.
What Modi said for Priyanka: "Any daughter for her brother and mother's victory will do everything. A daughter is after all a daughter, if she does not work for her mother, whom will she do it for? It is her right to work for her mother, to work for her brother. If she hurls ten more curses, then too a daughter is a daughter and as a daughter, whatever she does, I won't be angry at her."
The government also denied any hand in the alleged omission of the part of the interview in which Modi is believed to have said that Priyanka Gandhi was like his daughter, arguing that Prasar Bharati, which runs DD, is autonomous. "Prasar Bharti is an independent body. ..Somewhere pressure has been exerted and the interview has been censorred and cut," BJP spokesperson Nirmala Sitharaman told a press conference here. "It is a shame, when at one point of time Congress party speaks about freedom of speech, there is still space for censor and Congress party is misusing this power," she said, adding "either the Prasar Bharati or the Information and Broadcasting Ministry should "answer".
Denying any wrongdoing, Doordarshan said in a statement, "there was no deliberate editing or omission of any portion of the interview. Wherever editing was done, it was for technical reasons and during post-production. There was no interference or control from any authority in the entire process." Insisting that there was no attempt to downplay the interview, DD said that "important portions of the interview were used in all the important bulletins of DD News also....It was given wide pre-telecast publicity and (the interview) was repeated the next day."
Information and Broadcasting Minister Manish Tewari said that his ministry does not interfere in Doordarshan's news agenda as it has an "arm's length relationship with Prasar Bharati, which is an autonomous broadcaster by an act of Parliament."
Another controversial part from the interview that was edited out was Modi referring to Ahmed Patel, the political secretary of Sonia Gandhi, as a good friend.
"Ahmedbhai is among the best friends I have in Congress but not now... I had a good friendship with him and would have preferred that it had remained so... but he now runs away from me and doesn't take my calls," Modi said in the interview.
Modi added that they had even dined at each other's house and Ahmed Patel confirmed this to a newspaper by saying, "Yes, we had dined in 1980 but have nothing besides that."
Watch the video below:
With agency inputs