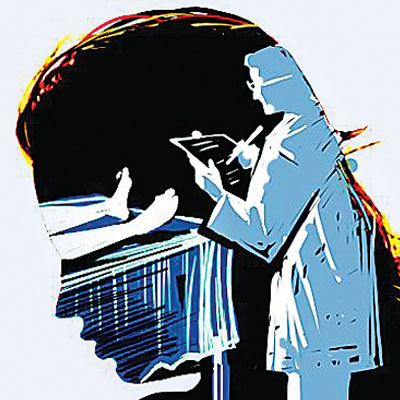 Nagina Hasan, 50, is yet to come to terms with the mysterious death of her teenaged daughter Sanam in 2012. As if the trauma of losing her 19-year-old child was not enough, she now has to deal with abusive posts on Sanam's Facebook page and a fake account on the social networking site with her daughter's photo. Fed up at having to deal with such vitriolic and maligning comments, Nagina recently lodged a complaint with the Versova police station.
"Two people named John Abraham and Vidhi Sevak posted 20-25 abusive messages on Sanam's Facebook account and indulged in character assassination. They posted comments like 'Sanam mar gayi accha hua...' and 'agar raat bhar bahar party karney ko allow karenge to aisa he hoga' among others," Nagina, a resident of Andheri, told dna. "Also, someone has created a Facebook account in the name of D'souza Kulkarni and used Sanam's photo."
Sanam, a second-year fashion designing student of Symbiosis College in Pune, was found dead under mysterious circumstances on October 3, 2012, while celebrating her birthday with friends. A resident of Seven Bungalows in Andheri, the teenager was also working part-time at a boutique in Pune of which Mohnish Bolate, 24, was manager. After celebrating her birthday with her parents at a hotel in Pune, Sanam left, saying her friends and colleagues were throwing a party.
Yerawada resident Bolate had organised a party at a flat in Vadgaosheri where Sanam was forced to drink beer, whiskey and vodka. After she felt uneasy around 2.30am and began vomiting, Bolate gave her lemon water to drink and asked her to sleep in another room. When she did not wake up the next day, she was taken to hospital where she was declared dead on arrival. The post-mortem report suggested that Sanam died of alcohol intoxication with ischemic heart disease. Bolate was arrested after subsequent investigations by the CBI.
Senior police inspector HR Parmale of the Versova police station said: "The case has been registered following the statement given by Sanam's mother. We are taking the help of cyber cell police to nail the accused." The cyber cell police confirmed that they received an application from Nagina and submitted the report to the Versova police on April 21.
Nagina, however, said the police were reluctant to investigate the matter and that she had to make several visits before they relented. "I kept visiting the Versova police station for a month as they refused to lodge a complaint. They agreed only after I threatened them, saying I won't leave the police station till they register my case," she said.
Earlier, Nagina approached the high court, demanding a CBI inquiry into her daughter's case as she believed the crime investigation department, Pune, was not investigating the case properly. "She died under mysterious circumstances. However, the police and doctors manipulated her post-mortem report. She was murdered," Nagina alleged. A police officer admitted that Sanam's parents had accused the Pune police of shoddy investigation.