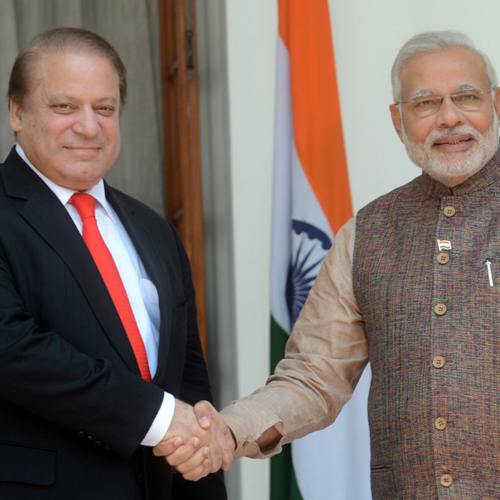 Pakistan on Tuesday said the process of granting non-discriminatory market access (NDMA) to India will be carried forward once bilateral engagement with the country resumes.
"Let the bilateral engagement resume. Our two Prime Ministers have met and all the issues were discussed and we hope that that things will be carried forward when the time comes," High Commissioner of Pakistan in India Abdul Basit told reporters. He was replying to a question on granting of Most Favoured Nation (MFN) or NDMA status to India. Basit said that people of both the countries have given huge mandate to their respective leaders to create a better understanding between the two countries. "I have no reason to doubt for a moment that acche din aa rahe hain (good days are ahead)," he said.
Pakistan's Prime Minister Nawaz Sharif was in New Delhi in May, to attend the swearing-in ceremony of Prime Minister Narendra Modi. The two leaders had discussions on various issues.
Pakistan has decided to postpone the grant of NDMA status to India due to lack of consensus at home.
Bilateral trade talks have been suspended since last year following escalation in violence at the Line of Control. In 2012, Pakistan had committed itself to giving the Most Favoured Nation (MFN) status to India but missed its own deadline of December 31, owing to domestic opposition. Pakistan has to abolish the negative list of 1,209 tradeable items. Abolishing the list of items that cannot be imported from India means the grant of NDMA status to the country.
NDMA is a nomenclature chosen by the Pakistani government to avoid political ramifications at home in giving India the MFN status. Basit was speaking at the curtain raiser of 'Aalishan Pakistan: 2nd Pakistan Life-Style Exhibition'. The four-day show will start on September 11.
The bilateral trade between the countries stood at USD 2.6 billion in 2012-13. India's main exports to Pakistan include sugar, man-made filaments and chemicals, while its imports comprise mineral fuels, among others.
Basit said that Prime Ministers of India and Pakistan have articulated their shared vision of peace and development during their meeting. He added however that in the time of globalisation, the South Asian region was still stuck in an outdated narrative. "It is an irony that while globalisation has transformed the world, lifted million of people around the world from poverty, South Asia is stuck in an outdated and unhelpful narrative," he said.
Basit said the intra-SAARC trade is only 5 per cent of the region's total trade with rest of the world, while in the case of European Union, Asean and Latin America their trade share is higher. Growth and development of India and Pakistan will help in eliminating poverty and reducing illiteracy in the region, he said.